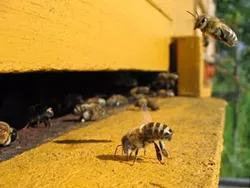 Everything from pesticides to cell-phone towers has been posited as the cause of colony collapse disorder, which since 2006 has dramatically reduced the population of honeybees, whose pollination is vital to the agricultural system.
(
Riverfront Times
has been following this story from almost the beginning: In 2007, former staff writer Malcolm Gay looked at
colony collapse disorder
in his feature story "Buzz Kill.")
Now scientists at San Francisco State University have offered a new theory.
Zombies.
No, this isn't a feeble attempt by scientists to latch on to the cultural moment that zombies are enjoying. (We SEO-conscious bloggers, on the other hand....) Scientists searching for a cause of colony collapse disorder discovered
several bees in which a parasitic fly had laid its eggs
, as
USA Today
reports:
Scientists say the fly deposits its eggs into the bee's abdomen, causing the infected bee to exhibit zombie-like behavior by walking around in circles with no apparent sense of direction. The bee leaves the hive at night and dies shortly thereafter.

Now before you start telling everyone to look out for the zombie bees, the scientists say they aren't sure if these parasitic flies are the primary cause of colony collapse disorder or part of a web of stressors that have brought about the crisis.
Still, though...ZOMBIE BEES!
(h/t: Eater)