Selecting Riverfront Times' Best of St. Louis 2011 was no picnic. Choosing the winner meant several worthy candidates would go unmentioned -- until now. In this Gut Check series, we are chewing our way through notable runners up in a number of categories. To see hundreds more winners and finalists and download the Riverfront Times Best of St. Louis mobile app, visit our Best of St. Louis homepage.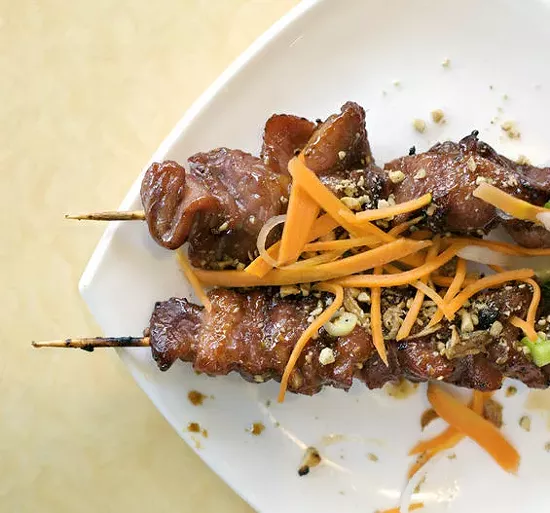 Jennifer Silverberg
Heo lui, a barbecued pork shish kabob appetizer, at this year's "Best Vietnamese Restaurant"
In 2011, our "Best Vietnamese Restaurant" also happened to be St. Louis' oldest Vietnamese restaurant. This was no legacy award. It stood out among very, very strong competition.


Deborah Hyland
The banh xeo at Little Saigon Café
5. Little Saigon Café (10 North Euclid Avenue; 314-361-8881)

This Central West End mainstay balances favorites like pho tai (beef noodle soup) and goi cuon (spring rolls) with more ambitious -- and, yes, more expensive -- dishes like sauteed prawns with asparagus and salmon cooked in a hot pot. Be sure to try the cha Saigon, fried spring rolls with a crisp (but not greasy) exterior.


Ian Froeb
Pho at Pho Long
4. Pho Long (8629 Olive Boulevard, University City; 314-997-1218)

Is it fair to include a restaurant that serves little more than variations of one dish in this list? When that dish is pho and the restaurant is Pho Long, the answer is yes. The pho here is incredible, the broth so deeply flavored that the usual additions (basil, lime, etc.) are hardly necessary -- though, of course, you can and should doctor the dish to your liking. Pho Long caters to novice and aficionado alike, with basic beef pho as well as soup loaded with tripe and tendon.


Ian Froeb
The banh mi dac biet at Phuc Loi
3. Phuc Loi (3723 Gravois Avenue; 314-772-7742)

Perhaps the most unassuming restaurant in all of St. Louis, Phuc Loi makes up for its blink-and-you-miss-it exterior with terrific Vietnamese dishes. The bun bo Hue is an incredible pork soup, fiery hot, with the strong mineral note of pork blood. The best dish might be the banh mi dac biet, the popular Vietnamese sandwich with ham, head cheese and -- what puts it over the top -- a fried egg.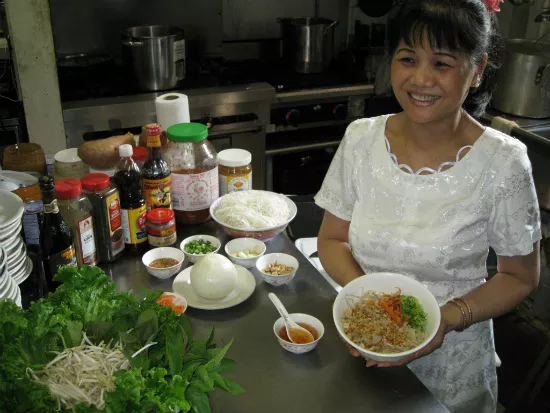 Courtesy: Dewey Truong
Lynne Truong of Banh Mi So #1 - Saigon Gourmet
2. Banh Mi So #1 - Saigon Gourmet (4071 South Grand Boulevard; 314-353-0545)

Riverfront Times has honored this South Grand staple so many times over the years that it is difficult to find something new to say about it. So let's keep it simple: If by some chance you love Vietnamese cuisine and haven't yet had the pho, banh xeo, banh mi or any other dishes here, we are deeply envious because you will be able to enjoy Lynne Truong's cooking for the first time. The rest of us will have to settle for the not-inconsiderable pleasure of visiting Banh Mi So for the 100th time (or more).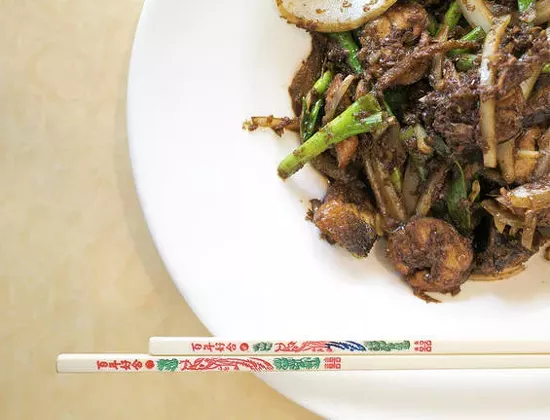 Jennifer Silverberg
Luon xao xa ot, eel stir-fried in hot chili and lemongrass, at Mai Lee
1. Mai Lee (8396 Musick Memorial Drive, Brentwood; 314-645-2835)

As St. Louis' first Vietnamese restaurant, Mai Lee's place in local culinary history is guaranteed. But when the Lee family announced their plans to move from the western edge of University City to a strange new location -- the ground floor of a parking garage in Brentwood, sandwiched between the Best Buy/Sports Authority colossus and the South Hanley Road Home Depot -- even passionate fans raised a skeptical eyebrow. Our worries were unfounded. Mai Lee is thriving in its new home, its dining room seemingly packed at every lunch and dinner. The menu is massive -- more than 200 dishes. Order any of them with confidence, from simple goi cuon (fresh summer rolls) to exotic ech xao lan (a stir-fry with lemongrass, curry and frogs' legs). You might not be related to the Lees, but they'll become like your family in one respect: You'll follow them anywhere.