This is part one of Natalie McLaury's Chef's Choice profile of Wes Johnson of Salt. Part two, a Q&A, is published here, and part three, a recipe from Johnson, can be found here.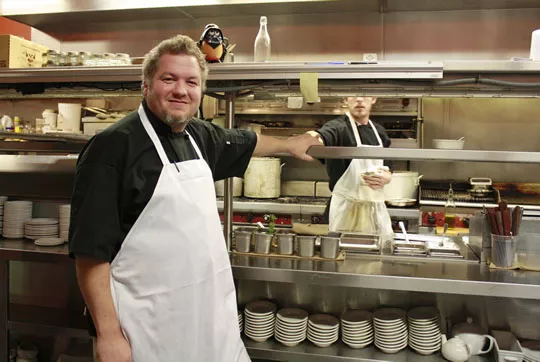 The culinary career of Wes Johnson of Salt (4356 Lindell Boulevard; 314-932-5787) has run the gamut from catering gigs to a post as a Waffle House cook to an apprenticeship at Highland Springs Country Club in Springfield, where he was allowed ample freedom to experiment and his culinary style began to take root.
After years of catering and restaurant jobs that took him as far afield as Seattle, his friend Ted Kilgore, mixologist at Monarch and then Taste, convinced Johnson to re-enter the culinary scene in St. Louis. Johnson made the move and has since built a lengthy résumé with stints at the Scottish Arms, the Shaved Duck and Eclipse.
Last April, he stepped out on his own, opening Salt in the ornate Central West End space formerly occupied by Savor.
Salt has adopted the ever-popular farm-to-table approach, but what sets Johnson's menu apart is his method of simplification. According to Johnson, many chefs try to do too much: too many flavors, too many processes. At Salt, Johnson works to offer dishes that are simple and familiar, but with a creative touch. Take the risotto, for example. The main ingredients are simple -- bacon, egg and cheese -- but swirling a runny egg yolk into risotto smattered with salty bacon makes the sum much greater than its parts.
The restaurant has begun growing its own produce alongside the building in an effort to serve the best local ingredients and to keep the menu items reasonably priced. Furthermore, Johnson's set the lofty goal to grow all of the restaurant's lettuce on site in 2012.
Next up for Johnson? His lips are sealed, but look for an announcement of his latest adventure this spring.
____________________________________________________________
Related Content
Wes Johnson of Salt, Part 2 Wes Johnson of Salt: Recipe for Pork and Fennel Meatballs