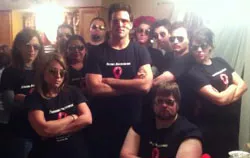 Courtesy of Matthew Willer
Bacon Awareness
A bacon explosion is not a pack of bacon hooked up to M-80s, although eating one might make you feel a bit, er, eruptive. A traditional bacon explosion is two pounds of bacon weaved around two pounds of Italian sausage, covered in barbecue sauce and seasoning. This mass of meat is then smoked or baked before being sliced and eaten.
Local bacon enthusiast Matthew Willer's first successful bacon-explosion experiment (eight pounds, doubled from the original) left him yearning for more. A little research proved the unofficial world record for a bacon explosion was 60 pounds, so Willer immediately set his sights on a 120-pound bacon explosion.
Courtesy of Matthew Willer
Kenrick's Meat Market thought it was a prank when Willer called with the order for 120 pounds of meat. Thanks to $30 "sponsorships" from 25 of his closest friends, many of them teammates on his coed kickball team (affectionately named "Bacon"), Willer managed to purchase not only the meat, but also official uniforms for each of his participants (bacon awareness T-shirts and aviator sunglasses, in case you were wondering).
Matthew Guillot, a friend and coworker of Willer's, designed and then helped build the 12-foot long smoker required to cook the massive hunk of meat which, after many hours of smoking, was tender enough to be cut with a plastic fork. On November 26, the team began construction on this meaty monster.
The Record-Setting Bacon Explosion, by the numbers:
-5 hours of preparation and assembly -8 people required to roll the explosion and wrap in foil -9 hours of cooking -10 pounds of Sweet Baby Ray's BBQ Sauce -14 gigs of video footage, soon to be on YouTube -60 pounds of bacon, 60 pounds of sausage -(approximately) 150,000 calories and 15,000 grams of fat
Why, exactly, did Willer and Co. decide to make this beast of a meal? "I think I'm a pretty normal guy! I never previously had a desire to break a world record. I know this world-record event was fairly ridiculous, I just thought it would be a fun thing, and that was the real motivation for this."
Although the unofficial record-setting 60-pound bacon explosion was rejected from the Guinness Book of World Records for its specificity, Willer finds this reasoning silly and plans to submit his entry anyway. As he said, "They certified a world record for the world's largest marshmallow fight, but hey, what do I know?"
Hopefully CPR, Mr. Willer.
Sara Wilcox, a marketing assistant for Guinness, explained to Gut Check via e-mail:
With the claim for the longest bacon explosion, though popular in certain areas, we have not received enough claims or public interest to open it as a new record category. It would fall under our more general current record for the longest sausage. It is possible we may open a new record category for bacon explosion in the future, should it evolve into something recognized worldwide and we receive multiple claims to break it.
Challenge accepted.