Like any red-blooded American, Gut Check uses liquid medication to cope with holiday stress. Not only does a good winter cocktail make it possible to tolerate family members, say, inquiring about your procreation plans, it helps keep you warm, too. From now until Christmas, we're calling upon local drink-slingers to suggest great cocktails to get you through the season. Some of them are holiday-themed, some traditional, some not so much, but they all share one common thread: delicious potency.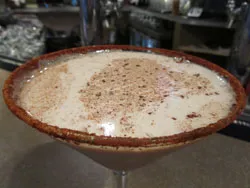 When you're shivering under a pile of blankets during the St. Louis winter, fantasies of a golden beach along the Yucatan peninsula, a frozen margarita in your hand, might help you survive.
Now, get over it. You're stuck here. Thankfully, the flavors of Mexico can still get you through -- and we're not talking about a margarita served at approximately the same temperature as the average January wind chill.
Milagro Modern Mexican (20 Allen Avenue, Webster Groves; 314-962-4300) bartender Rick Cutler, who has been with the restaurant since its opening in April 2010, threw together a concoction of ingredients on a whim one day and deemed it a Spicy Chocolate Martini. While not hot in temperature, the heat from its Mexican-themed ingredients provides all the warmth you'll need as the temperature dips below freezing.
Cutler never measured out the ingredients, nor did he write down the recipe, but he describes a mixture of habanero-infused tequila, Kahlua, Baileys Irish Cream, chocolate sauce and chipotle powder blended smoothly and then poured into a martini glass, the rim of which has been dipped in chocolate and chipotle powder reminiscent of the traditional Abuelita (or "Little Grandma") chocolate.
One sip and you'll forget about the ice and snow and focus on the immediate lip-tingling kick from the chipotle powder, followed by the smooth chocolate and habanero mixture that cools the tingle but spreads the warmth.
It may not be on the menu, but Cutler will gladly mix a Spicy Chocolate Martini for any shivering patrons who pull up a chair at the bar. Between the martini and the street corn, you can't go wrong.
Spicy Chocolate Martini
1.5 ounce habenero-infused tequila 1.5 ounce Kahlua 1.5 ounce Bailey's 1/2 ounce chocolate syrup 1/2 teaspoon chipotle powder
Combine in a shaker with ice, shake, and strain into a martini glass rimmed with a mix of Abuelita Mexican chocolate and chipotle powder.