This is part two of Stephen Fairbanks' Chef's Choice profile of Cassy Vires of Home Wine Kitchen. Part one can be found here. Part three, a recipe from Vires, is here.
Jennifer Silverberg
Chef/owner Cassy Vires in the cheese case.
Did your family cook when you were a child? Not unless you consider Hamburger Helper "cooking."
How old were you when you started cooking? Very young.
First cooking job? A catering company in my hometown. I got to peel carrots with the best of them.
Did you attend culinary school or college? Yes. The Art Institute [of Houston].
What do you eat? Whatever is quick and easy.
What do you cook at home? I sleep at my house. That's about it.
What are your three favorite restaurants in St. Louis (besides your own!)? Brasserie, Sidney Street and Sanctuaria.
​The local chef who most impresses you? Gerard Craft. The man is building an empire.
Your favorite restaurant elsewhere? RBistro in Indianapolis, Indiana.
Your favorite food city? NYC.
Favorite recent food find? Veal bacon.
Most essential ingredient in your kitchen? Number one, salt. Most people would think I would say fat, but that is number two.
Favorite local food find, and where do you get it? Anything from Salume Beddu. Those guys know what they are doing.
Five words to describe your food. Comfortable, rich, approachable, fun and healthy (just kidding on that last one).
One food you dislike. Raw onion.
A food you can't live without. Eggs. I love eggs.
An ingredient never allowed in your kitchen. Cans.
Culinarily speaking, St. Louis needs more... Late-night eats. Really good late-night eats.
Best tip for home cooks. Be creative.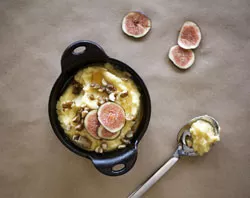 Jennifer Silverberg
From the new fall brunch menu, Polenta. It's creamy polenta with Missouri honey, Missouri Black walnuts and fresh figs.
Favorite after-work hangout. Barney's. Yup, Barney's.
Favorite kitchen tool. My PacoJet.
​What's next for you? Christmas. I get a day off.
What inspires you? Everything I see, hear, taste and touch. It is constant. I always have notes scribbled in random places because I got an idea and had to get it down.
Chefs who inspire you. Michael Ruhlman (though he hates to be called "chef"), Grace Dinsmoor, Cat Cora.
Favorite cookbooks? Good Meat -- awesome. Ratio - also awesome. And Lucky Peach -- not a cookbook, but I love it.
Proudest professional moment? Being nominated for a James Beard award.
Favorite music to have in the kitchen. No music in my kitchen.
What's on your pizza? Meat.
What's in your omelet? Not an omelet person.
What are you drinking? Usually bourbon. Or sweet tea. One of the two.
What's the most surprising food you've eaten? Food rarely surprises me.
What's the most difficult lesson you've learned in this business? Failing hurts. But you try again anyway.
When did you know the chef's life was for you? As soon as I could reach the stove. I have the scar to prove it.
__________________________________________________________
Related Content
Cassy Vires of Home Wine Kitchen Cassy Vires of Home Wine Kitchen: Recipe for Crustless Buttermilk Pie