Kaylen Wissenger
The "Cucuy's Coffee" at Diablito's
"I HATE tequila," says Ami Grimes, co-owner of the brand-new Diablito's Cantina (3761 Laclede Avenue; 314-644-4430). "But when Angie [Cornish, head bartender] started creating the infused tequilas, I was all for it."
Which is a good thing, as a significant chunk of the drink menu at the latest offering from the team behind Café Ventana, Sanctuaria and the reborn Chuy Arzola centers around tequila infused with everything from cucumbers and coffee to jalapeño and hibiscus. These tequilas (more than 100 different varieties) find their way into drinks like the "Isla Bonita" (pineapple-infused tequila, blue curaçao, peach schnapps, triple sec and lemon), "Cucuy's Coffee" (coffee-infused tequila, Kahlua, çrème de cocoa, Bacardi 151 and horchata, served warm), two varieties of sangria, margaritas, mimosas and mojitos.
"We are hoping to pull in all kinds of people, including SLU students...I mean, we have Natty Light on tap," Will Pelly, the chef de cuisine, tells Gut Check. "But we're really looking for anyone to come in that appreciates good, authentic Mexican street fare."
In fact, Grimes and partner Dr. Gurpreet Padda, with the help of Pelly, executive chef Christopher Lee and mixologist Cornish have created a menu that is a tribute to Grimes and Padda's favorite taqueria in Mexico, which they frequently visit.
"They have the world's best fish tacos," Grimes says. "And the décor in that place is just fantastic. We really wanted to bring some elements from our favorite place in Mexico back to St. Louis."
Grimes mentions the fish tacos-- battered tilapia, cilantro cabbage slaw, lime and jalapeno tartar sauce -- and the sweet corn tamales as her favorite dishes so far. The tamales are a secret Pelly-family recipe, made with masa imported straight from Mexico. Gut Check was also able to sample freshly cooked white-corn tortilla chips with a variety of sauces: Mexican giardiniera, queso blanco, pineapple-onion salsa and mango- tomato salsa.
"I know the big thing in the restaurant business right now is using locally-sourced ingredients," Pelly says, "but in order to be as authentic as possible, we're ordering some of our stock right out of Mexico. A lot of our fresh fruits, cactus, spices and of course masa come from there, but we do also work with a farm in Belleville where we get a good amount of produce."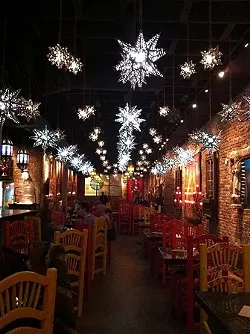 Kaylen Wissinger
The interior of Diablito's Cantina
The spacious bar is outfitted with high yellow and red bar stools, numerous high top tables and bedazzled skull disco balls. Mexican star lanterns serve as lighting throughout the restaurant, as do small shrines to the Virgin Mary and altar candles that dot the walls.
(To say that Diablito's has a 'Day of the Dead' theme is an understatement.)
With two patios (one insulated and usable in winter months), graffiti splashed all over the interior and exterior walls, a fire pit, a garden, and one wicked statue of dinosaurs fighting over tequila on the roof, Diablito's looks like it will be the next big thing in the St. Louis dining scene.
Diablito's Cantina is open daily at 4 p.m. As of Monday, January 2, lunch service begins at 11 a.m. Breakfast -- think empanadas, breakfast burritos, churros and chilaquiles -- is slated to start Monday, January 23, at 9 a.m.