sogoodblog.com
Should this be the new face of Olive Garden?
This week the Wall Street Journal reported some downer news regarding Olive Garden's business woes. Darden Restaurants, which owns Olive Garden, forecast a dismal prediction that Olive Garden's sales will continue to plummet if it doesn't find new ways to attract more customers.
Can you say, "Gut Check to the rescue!"?
We've compiled a list of suggestions guaranteed to perk up the numbers at Olive Garden.
5.) Hire a sexier family of servers Yeah, yeah, "When you're here, you're family." The OG is keen on the whole family-friendly-atmosphere deal, but guess what? Families aren't dining out as much! The economy sucks! That said, there are plenty of twentysomethings out there with no family to support and no desire to cook for themselves either. They just need a little...encouragement.
Admittedly, for this to work, Garden execs will have to loosen up.
They missed a major opportunity a few years back, when Playboy cover babe Kendra Wilkinson repeatedly declared her love of Olive Garden on national television. This is not to suggest raiding Hugh Hefner's stable for your waitstaff. Hiring a crew that's too good-looking might make patrons feel bad about themselves while gorging on endless breadsticks. Just step up the sex appeal incrementally: Dim the lights just a tad. Ditch the white button-ups and ties for an all-black ensemble. And maybe flirt a bit! You're not really family, after all.
(For people who do go out to eat in order to be reminded of dinner with the fam, there could be an option where you're served by an older, overbearing-but-affectionate woman who'll pepper you with questions about your love life -- or lack thereof -- and point out repeatedly that you can't hold off having kids indefinitely.)
4.) Incorporate authentic Italian hospitality Italians are some of the most gracious folks in the world. So gracious, in fact, that some restaurants in Italy serve customers a complimentary limoncello at the end of their meal. Just sayin'.
3.) Two words: Happy Hour As previously mentioned, money's tight these days. Why not institute a happy hour with discounted apps and drinks? Lowering prices across the board is all well and good, but it kinda smacks of Walmart. And guys, they don't call it "happy hour" for nothing. Offer some really good deals for a couple of hours in the early evening and folks will leave your restaurant with smiles on their faces -- and they'll come back for more!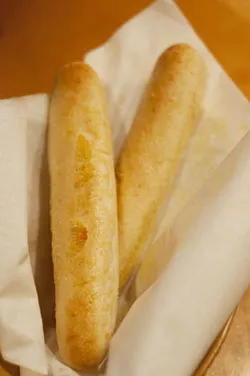 Kholood Eid
The beloved breadsticks at the Olive Garden.
2.) Toasted ravioli -- with cheese! Sure, the T-rav is a regional delicacy. But look what happened with Buffalo and its chicken wings! We're talking cachet here! Better yet, break from the pack and offer T-ravs filled with cheese as an alternative to the ubiquitous meat-paste kind. (Provel optional. Let's not get crazy here.)
1.) Breadsticks to go Regardless of what you end up ordering at Olive Garden, you're gonna get breadsticks. There's a good chance you came only for the breadsticks -- that come-hither promise of an endless supply. Use that, people! Where is it written that "Unlimited Breadsticks" is the one and only way to exploit the wonders of this tasty staple? Howzabout you sell freezer-to-oven breadsticks as a take-home item? Or give every party a doggy bagful of breadsticks at the end of the meal, as a reminder of what awaits them on their next visit?