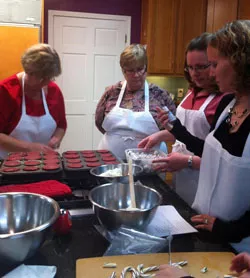 Class is in session at the Kitchen Conservatory
With a little planning and a couple of cocktails the holidays can go down smoother than a pint of spiked egg nog. Gut Check's assembled a series of guides to help find the perfect present for the food lover in your life while maintaining sanity and investing in your community...and, OK, maybe picking up a thing or two for yourself along the way.
You know the old saying: Give a man a fish, and he'll eat for a day. Teach a man to fish, and you'll both have salmon risotto for life.
And the best part? You don't even have to do the work! There are plenty of places to hone the culinary skills of your family and friends, whether you're shopping for a instant-ramen-only cook or someone who fancies herself a home chef.
- For $150 you can make the novice chef in your life Chef For a Day at Monarch (7401 Manchester Road, Maplewood; 314-644-3995). They'll get one on one instruction from chef Josh Galliano as they prepare real meals for real patrons. The sessions last three or four hours, and the recipient of this gift can bring a guest.
- The Kitchen Conservatory (8021 Clayton Road, Richmond Heights; 314-862-2665) offers a course on nearly any topic you could imagine: mac & cheese, sushi, eating light, pastries, cake decorating, souffles, basic culinary skills, "Girls Night Out," couples classes, parent-child classes and everything in between. Classes start at $45. Check out the full schedule here.
- Schnucks Cooks (12332 Manchester Road, Des Peres; 314-965-3094) offers several cooking classes from $18-$55, including one for kids ages ten to fifteen. There are also beer and wine courses as well as sessions that focus on specific ethnic cuisines. See the full schedule here.
-Whole Foods (1601 South Brentwood Boulevard, Brentwood; 314-968-7744) offers several health-focused courses in January: cooking greens and grains, detoxification, "Intro to Health," "Clean Eating 101" and even one that teaches how to effectively use coupons to eat on the cheap. Classes range from free to $25. See the full schedule here.
-Sallie's Cake and Candy Supplies (14340 Manchester Road, Manchester; 636-394-3030) offers a variety of classes that focus on cake decorating and candy making, including "Beginners' Cake Decorating," "Decorating with Fondant," "Tiered Assembly," "Petit Fours" and more. Classes range in price from $25-$60. See the full schedule and list of courses here.
-Dierbergs' cooking school offers a variety of courses from "In Garlic We Trust" to "Let's Do Lunch" to "Dinner, Steak House Style." Classes range in price from $18-$50. See the full schedule here.
There are so many craft artisans in the Lou that we're bound to miss a few. Send us your suggestions for local foodie gifts or leave them in the comments.