Like any red-blooded American, Gut Check uses liquid medication to cope with holiday stress. Not only does a good winter cocktail make it possible to tolerate family members, say, inquiring about your procreation plans, it helps keep you warm, too. From now until Christmas, we're calling upon local drink-slingers to suggest great cocktails to get you through the season. Some of them are holiday-themed, some traditional, some not so much, but they all share one common thread: delicious potency.
Mabel Suen
"The Grinch" at Mangia Italiano
You're a mean one, St. Louis winter. But those who sympathize with Mr. Grinch can learn to love again thanks to bartender Jason Hutto at Mangia Italiano (3145 South Grand Boulevard; 314-664-8585). Gut Check headed down to the south side watering hole to cure the bitter, bleak-weather blues with this sweet minty treat.
After one slow, smooth sip of Hutto's holiday invention, the Grinch, Gut Check decided to pass the drink around for fellow barflies to enjoy as well. After all, isn't sharing and caring what this time of year is all about?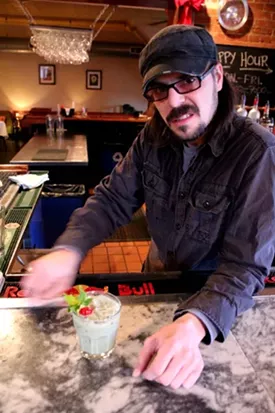 Mabel Suen
Mangia Italiano bartender Jason Hutto gives Gut Check his best Grinch face.
One friend thought the Grinch had the appeal of Girl Scout cookies, without the wait between ordering and consuming (also: without the Girl Scouts). Another testified that Hutto's cocktail compares quite closely to "giving someone a birthday present that's a year-round subscription to Christmas." In any case, the Grinch passes the test for curing holiday duress with its jarring, but strangely pleasant Grinch-like color, the result of blending Godiva chocolate liqueur and Crème de menthe.
According to one of Hutto's friends, "And what happened then? Well, in St. Louis they say that the Grinch's small liver grew three sizes that day."
The Grinch

1 oz 360 vanilla vodka

1 oz Godiva chocolate liqueur

1/2 oz Crème de menthe

Shaken, served on rocks in a high ball glass garnished with mint and cherry.