Selecting Riverfront Times' Best of St. Louis 2011 was no picnic. Choosing the winner meant several worthy candidates would go unmentioned -- until now. In this Gut Check series, we are chewing our way through notable runners up in a number of categories. To see hundreds more winners and finalists and download the Riverfront Times Best of St. Louis mobile app, visit our Best of St. Louis homepage.
Jennifer Silverberg
The wings at this year's "Best Neighborhood Restaurant"
The term "neighborhood restaurant" is deliberately vague. Like the man said about pornography, it's hard to define, but you know it when you see it. Unfussy, soul-satisfying fare is one common denominator. A friendly staff -- even if everyone doesn't remember your name, they seem sincere when they call you "babe" or "darling" or "hon" -- is another.

More than anything else, though, each of the five finalists for "Best Neighborhood Restaurant" is a place where, no matter where you happen to live, you feel a little closer to home.


Jennifer Silverberg
The lasagna at Mama Josephine's
5. Mama Josephine's (4000 Shaw Boulevard; 314-771-4001)

Owner Mary Samuelson honors her late mother by dishing up her recipes at this cozy spot in the Shaw neighborhood. Much of the fare is classic southern home cookin': pan-fried chicken, catfish, hush puppies. The standout, though, is the lasagna: eight layers of beef, noodles and cheese in a long-simmered sauce.


Jennifer Silverberg
Nick and Maggie Collida, owners of the Piccadilly at Manhattan
4. The Piccadilly at Manhattan (7201 Piccadilly Avenue; 314-646-0016)

Ellendale might not top any one's list of hip restaurant neighborhoods in St. Louis, but it does have the Piccadilly at Manhattan. This small restaurant and bar in a mostly residential area is a gem, with excellent barbecue (Five Best-worthy, in fact), burgers and fried chicken. Pro tip: If you want a burger, go for a double or the patty melt, which might be the best in town.


Ian Froeb
The veal Parmesan sandwich at Biggie's
3. Biggie's (3332 Watson Road; 314-781-0060)

If you wanted to find the quintessential St. Louis neighborhood restaurant, look no further than Biggie's: dimly lighted, walls covered in sports memorabilia, maybe still a hint in the air of its many years without a smoking ban. The food is straightforward American and Italian-American fare, including a monster pork chop and a stellar veal-parm sandwich.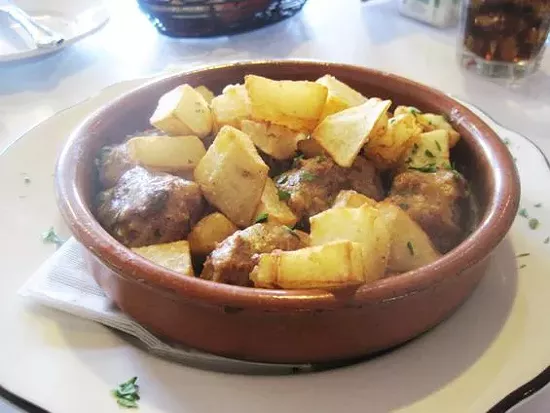 Ian Froeb
Albóndigas caseras with patatas bravas at Guido's Pizzeria & Tapas
2. Guido's Pizzeria & Tapas (5046 Shaw Avenue; 314-771-4900)

You don't go to Guido's because you want to go to the Hill. You go to Guido's because you want to go to Guido's -- to be reminded again that the Carretero family serves up some of the most satisfying food in town, from pizza and pasta to albóndigas and grilled calamari. A late supper of crusty bread, Serrano ham and manchego, with a cold Peroni, is an unmatched St. Louis pleasure.


Jennifer Silverberg
Quincy Street Bistro owners Mike Enright (left) and Kevin Winkler.
1. Quincy Street Bistro (6931 Gravois Avenue; 314-353-1588)

Many great neighborhood restaurants develop over time. Others arrive more or less fully formed, a happy coincidence of skill, timing and not a little luck. Such is the case with Quincy Street Bistro, which debuted in Princeton Heights this year but feels like it has been there, serving tasty burgers (try the "One-Eyed Jack" Burger, with barbecue sauce and onion rings), a deep-fried hot dog and St. Louis-style pizza that even the Provel-phobic might (might) enjoy, all along. Which is why Quincy Street Bistro is our "Best Neighborhood Restaurant" for 2011.