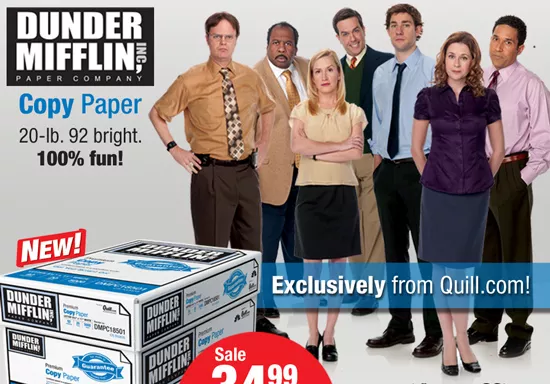 In the event that you've just returned from an extended stay at an ashram in Bangalore, eschewing all creature comforts in favor of a daily regimen of meditation, hot yoga and colon cleanses, Gut Check has news for you: Quill.com, an offshoot of the Staples chain of office-supply suppliers, has gone all heavy-meta, introducing a Dunder Mifflin brand of photocopier paper in a reverse-product-placement tie-in* to the sitcom The Office.
The news set Gut Check to thinkin' about another recent sitcom-related development, the announcement that Arrested Development really is coming back for ten new episodes and a full-length movie sometime in 2013.
Talk about your reverse-product-placement goldmines! It took us all of about 30 seconds to come up with a list of AD-related food items that would look awesome on a grocer's shelf. There were dozens to choose from, but we managed to winnow them down to the top seven.
*Yes, Gut Check is well aware that one man's reverse-product-placement tie-in to a hugely popular sitcom is another man's craven jump-the-shark ploy to cash in on an increasingly stale series that wasn't even original in the first place.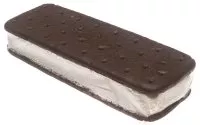 http://commons.wikimedia.org
7. Ice cream sandwiches Have a love affair with your ice cream sandwich... The Bluths reference their love of ice cream more than a few times throughout the series. George Sr., though, tops them all and would rather stay in jail if only for the ice cream sandwiches. We think George should make his own.
6. Buster's Juice This party's gonna be off the hook! Some of Buster's best moments come when he's able to sneak a few drinks of j-u-i-c-e without his mother's knowledge. Whether it's box wine or corn syrup dyed with food coloring, Buster's unlimited juice would ignite the ADHD in everyone.

http://blog.fakeanything.com
5. Hot Ham Water It's watery, and yet there's a smack of ham Has anything ever sounded more disgusting than Lindsay's hot ham water? To even pose the question is to prove that the stuff must be made. Maybe even carbonated.





4. Cornballs Soy loco por los cornballs Which Congressman do we have to call in order to get the Cornballer legalized in the United States? Third-degree burns be damned, we'll happily take our chances on this classic Bluth favorite.
http://image.spreadshirt.com/
3. Carl Weathers' Meat & Potato Stew Baby, you got a stew goin'
Carl Weathers has one of the best minor roles in Arrested Development (and he may be one of the best people ever). His simple instructions on how to make stew are a study in elegant minimalism. Perfect for a group or just two adults gettin' a stew on.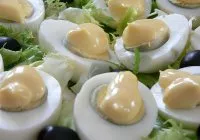 http://commons.wikimedia.org
2. Mayonegg Are you okay? Even if you've never seen Arrested Development, you've probably heard of the mayonegg, Ann ("her?") Veal's means to steal the heart of young George Michael. Sold in stores, it would quickly become a hit, ideal for Bible studies.

http://www.tshirtpusher.com
1. Bluth's Frozen Bananas There's always money in the banana stand Of course, the Arrested Development food Gut Check most wants to see in stores can be none other than Bluth's Original Frozen Banana. There are several different kinds of frozen banana treats, but none like the ones found in the banana stand. Dipped in chocolate, double dipped, double stick-ed, covered in nuts and candied however you want it and served up by Mr. Manager himself!