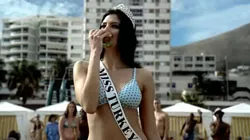 Over the weekend, CKE Restaurants announced that Hardee's and Carl's Jr would be leaving David and Goliath, the agency responsible for the Miss Turkey campaign for its new turkey burgers, in favor of the agency 72andSunny. In a prepared statement, Brad Haley of CKE stated: "They are a great group of people, but we became concerned about the recent direction of the advertising and determined that we needed to make a change."
Why, you ask, does Gut Check care? Hardee's consistently pushes the limit with its distinctive ads, and though some may make you roll your eyes in disgust (see the "More than a Piece of Meat" campaign), they stick inside your brain like a Thickburger to the thighs. To honor the brand's nothing-if-not-memorable ad campaigns, Gut Check presents the five best Hardee's commercials.
5. McDonald's is Great! Who didn't go to a McDonald's birthday party when they were seven?
4. Three Drops of Syrup This is what you sound like when you order food "your way."
3. Badinkadink Short, simple, to the point, it's an ad that will have you repeating the word "badinkadink" to yourself all day just because it makes your mouth feel funny.
2. Cow Shake How clever.
1. It's the A-Hole A taste-test spot that earned Hardee's a nomination for TBS' "Funniest Commercial of the Year" in 2009.