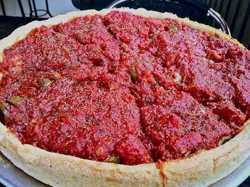 Pi Pizzeria
is known for many things. Its pizza is
loved by President Obama
, it has a great
happy hour
, it set the standard for the
food-truck boom in St. Louis
and, of course, it serves up a mean deep-dish pizza.
Now, founder
Chris Sommers
intends to use the brand's visibility for good -- by dedicating its food truck, Pi on the Spot, to charitable donations.
The plan, based on Panera Cares and similar to
Whole Foods' Community Support Days
, is to have a large portion of the truck's profits benefit a different charity each day.
"It sounds like something that could work and really be beneficial," Sommers explains. "It would really fit our goal, to be engaged wherever our customers are."
Pi on the Spot will take its maiden voyage using this model on Friday, December 1, at Barnes-Jewish hospital. Of the day's revenue, half will go to
Meds and Foods for Kids
, a local organization founded by a Washington University doctor. No further events are set in stone just yet, but Sommers says United Way and Stray Rescue are definitely high in the queue. Customers can nominate their charity of choice through
Pi's website
.
While this is certainly not the first time a local food truck or restaurant has shared its profits with a worthy cause, Pi on the Spot will be the first dedicated charitable food truck in the area, and perhaps, in the country. Could it be that St. Louis is ahead of the curve on yet
another trend
?