Kristie McClanahan
Beer-battered fish and chips from Barrister's.
Barrister's (15 North Meramec Avenue, Clayton; 314-726-5007)
The Hours: Sun.-Thurs. 5 p.m.-close
The Deal: Barrister's Wine & Dine: Two salads (house or Caesar), two entrées and a bottle of red or white wine for $30
The Scene: Clayton plus sports bar plus the UK equals Barrister's, a much loved and much needed spot in the starched and serious county seat of St. Louis County. The staff is typically as helpful and outgoing as the food is good -- a compliment to both. If you're a fan of European football, it's an ideal spot to keep tabs on your favorite teams; if you're not, it's an ideal spot to guffaw over their names before showing your support for West Ham United by chowing down on, say, a Benedict burger, topped with a fried egg and ham (natch), and served on an English muffin.
The Food: Barrister's boasts a menu that's varied enough to include classic pub burgers, shepherd's pie and cedar-plank salmon -- all of which are included in the $30 deal. So we went for the gusto: one order of a mixed grill of steak, salmon and pesto chicken, and one order of beer-battered fish and chips. Without the benefit of the Wine & Dine special, the entrees alone would have flirted with the $30 mark. But throw in a couple of salads and a bottle of wine, and you've got one of the best dinner deals in Clayton.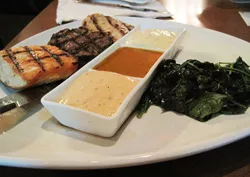 Except that the idea fared better than the execution. The salads were tasty if not reinventing the crouton (which were yummy), but the fish and chips came out the color of a slightly overdone funnel cake and proved more dense than flaky, though the fries didn't disappoint. And the mixed grill brought mixed results: Each piece of meat was about the size of a small cell phone and was served with a trio of mystery sauces -- "smoky," "mayolike" and "horseradishy" were the best we could come up with. The sauces weren't explained by the server (a lone, harried bartender) or listed on the menu.There was no sign of the promised portobello mushroom that was supposed to have accompanied the steak, but the meat was cooked to the requested medium-rare. The salmon was moist; the pesto chicken was not.
Additionally, Barrister's was out of the red wine that typically comes with the Wine & Dine deal (identified on our bill only as "Btl Red Farnese"), but we were given the option to upgrade to a 2009 Bodega Colome Amalaya for an additional $10. The first words that sprang to mind were "light" and "fruity," and the wine, a mix of malbec, cabernet sauvignon, syrah and tannat, ultimately didn't prove any more complex than that.
Worth It? At most sports bars, average is what's expected when it comes to service and food. But Barrister's has set the bar pretty high for itself. So when things are average at Barrister's, it feels an awful lot like a big step down. It's tough to complain too much about a dinner for two in Clayton for $30, but next time we'd stick with the tried-and-true burgers and order some beer to go alongside that bottle of wine.