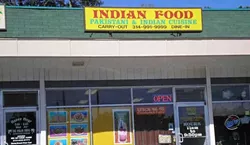 New life for Indian Food?
Signs in the windows of 6800F Olive Boulevard, the westernmost storefront of the small strip mall at the intersection of Olive and Ferguson Avenue in University City, tout the imminent arrival of an Indian and Pakistani "fast food" restaurant. There is no official signage outside the restaurant yet, but a laminated sign that I saw on a table inside the space reveals its name as
Spice n Grill
.
On another table sat a large laminated menu (the sort hung above a counter for customers to order from). This offers Indian and Pakistani fare, including tandoori chicken, saag paneer and a variety of biryani, with everything priced under $8.
Yet another laminated sign appears to be a blown-up version of
my review
of
Indian Food
, the excellent Indian and Pakistani restaurant that
closed its doors in University City last year
. That suggests some relationship between Indian Food, which was owned by
Zahid Khan
, and the new venture, though the exact nature of that connection remains unclear. More as I learn it.