Selecting Riverfront Times' Selecting Riverfront Times' Best of St. Louis 2011 was no picnic. Choosing the winner meant several worthy candidates would go unmentioned -- until now. In this Gut Check series, we are chewing our way through notable runners up in a number of categories. To see hundreds more winners and finalists and download the Riverfront Times Best of St. Louis mobile app, visit our Best of St. Louis homepage.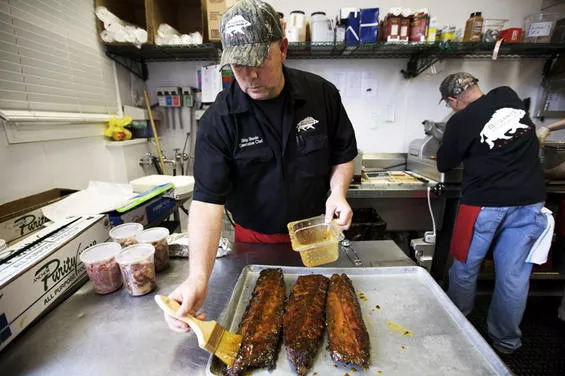 Jennifer Silverberg
Pitmaster Skip Steele glazes ribs at Bogart's Smokehouse.
How do you know that 2011 has been a very, very good year for barbecue in St. Louis? Because neither of the two restaurants that have garnered the most national attention -- and deservedly so -- can claim the top spot.

Here are Riverfront Times' five finalists in the category "Best Barbecue."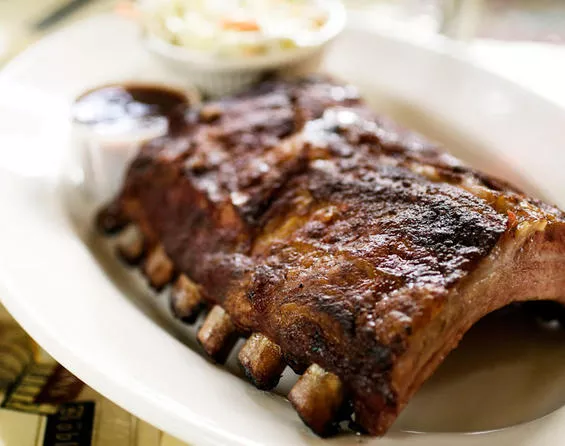 Jennifer Silverberg
The ribs at the Piccadilly at Manhattan
5. The Piccadilly at Manhattan (7201 Piccadilly Avenue; 314-646-0016)

The Piccadilly is the only one of the finalists that isn't a barbecue joint. In fact, barbecue -- specifically, baby-back ribs -- isn't always available at this neighborhood gem near the city's border with Maplewood. So if you happen to visit on a day when owner Nick Collida has fired up the smoker, don't hestiate: Order a rack of the smoky, meaty, tender ribs. (If the ribs aren't available, don't fret. The rest of the menu is pretty tasty, too.)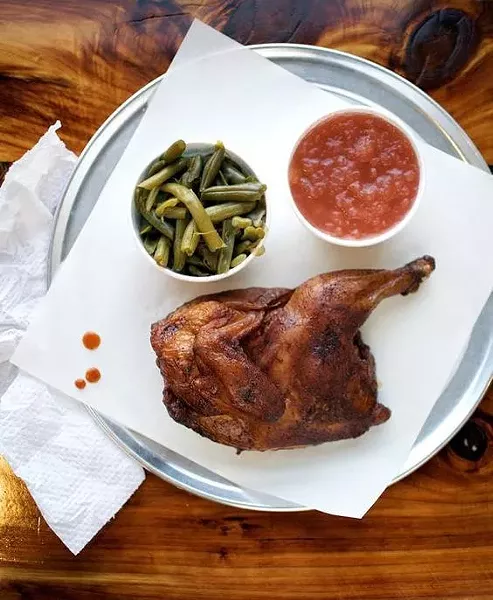 Jennifer Silverberg
The smoked half-chicken at PM BBQ
4. PM BBQ (Long Road & Edison Avenue, Chesterfield; 636-536-1966)

After several years of winning trophies in local barbecue contests, Paul Lamers and Mark Ruck opened their first restaurant last year. They continue to rack up awards, including a nod from Riverfront Times as "Best Beef Brisket" in 2011. The brisket, smoked for twelve hours, is so tender that the restaurant isn't afraid to slice it a bit on the thick side. Just as delicious is the moist, peppery smoked half-chicken.


Ian Froeb
The baby-back ribs at 17th Street Bar & Grill
3. 17th Street Bar & Grill (1711 West Highway 50, O'Fallon, Illinois; 618-622-1717)

The closest outpost of the small restaurant chain owned by barbecue legend Mike Mills, a multiple winner of the Memphis in May "Super Bowl of Swine" barbecue championship. The ribs are the standout here, pork so tender and flavorful with smoke, tangy sauce and Mills' secret spice rub that chef and Food Network star Michael Symon saw fit to call it the best pork he'd ever eaten.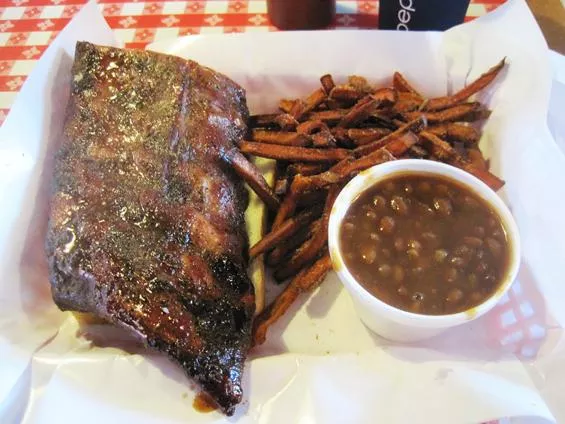 Ian Froeb
Half a slab of ribs, with beans and sweet-potato fries, at Pappy's
2. Pappy's Smokehouse (3106 Olive Street; 314-535-4340)

The last time that Pappy's Smokehouse didn't win "Best Barbecue" from the RFT was 2007 -- the year before this instantly beloved restaurant opened. The ever longer lines and increased celebrity haven't dimmed its star in the ensuing years. Every time you return for a bite of the ribs (our favorite) or any of the other meats smoked over apple or cherry woods, you have that rarest of sensations: It's even better than you remembered -- and dreamed.


Jennifer Silverberg
The smoked prime rib sandwich at Bogart's Smokehouse
1. Bogart's Smokehouse (1627 South Ninth Street; 314-621-3107)

So who could knock Pappy's Smokehouse off its throne? Pappy's own pitmaster, Skip Steele, who opened Bogart's this past spring to wild acclaim. It's deserved. What sets Bogart's apart isn't the usual barbecue -- though this, too, is amazing, especially the ribs, whose apricot glaze is caramelized with a propane torch -- but the unexpected offerings, like smoked prime rib and pastrami. Bogart's is the "Best Barbecue" of 2011.