Ettie Berneking
Guests enjoying wine and hors d'oeuvres at EdgeWild's open house last Friday.
EdgeWild Restaurant & Winery (550 Chesterfield Center, Chesterfield; 636-532-0550) is the Narnia of west county. Walk through the double doors, and you're transported to a warmer world, filled with fine wine, chocolate-covered mushrooms, fireplaces, oak tables and wooden-rafter ceilings. It's easy to forget the busy highway and frantic shoppers that surround EdgeWild.
That's exactly what owners DeeDee and Andy Kohn wanted when they decided to undertake this endeavor a year ago. They aim to serve as the gateway to Missouri wine country.
View a full slideshow of Edgewild's open house last Friday here.
The couple actually met over a glass of wine some 25 years ago while on a blind date at a winery. Wine has been their passion ever since. Taking a tip from the two wine connoisseurs, we tried a glass of pinot noir and piled up a plate of chocolate-covered porcini mushrooms, prosciutto, raspberries and blueberries with plenty of blue Stilton.
Executive chef Aaron Baggett's menu is what general manager Todd Wyatt calls "inventive American comfort food," like a bison burger topped with Chianti-braised shallots or the "Greens, Eggs and Ham" salad of baby spinach served with cinnamon-raisin croutons and a warm maple-mustard dressing.
Friday's open house also featured trays of chocolate truffles, blackened-tuna tacos and plenty of brick-oven pizza. Oh, and did we mention the wine? Bottles and bottles of wine.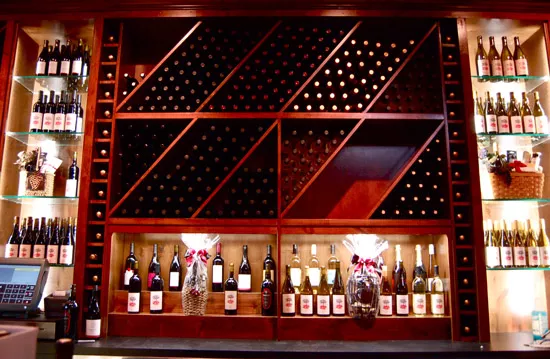 EdgeWild is not just a restaurant. It's also a bonded winery, meaning barrels of wine are stored and aged on location.
And the EdgeWild team has spent much of the last year carefully crafting its wine list. The Kohns have brought in wines from Oregon, California, Washington State and, of course, Missouri. "This gives us the flexibility to pick the wines that fit our guests," DeeDee says.
Some of those wines come from Missouri vineyards, an idea that may have been dismissed just a few years ago when the Missouri wine market was often criticized for being too sweet. But Wyatt says Missouri wines are on the way back up.
"The Noboleis Vineyard is making some seriously good wines," he says. Maybe it's the wine talking, but we had to agree.
View a full slideshow of EdgeWild's open house last Friday here.