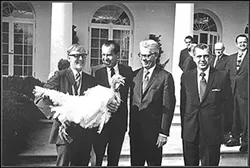 Pardon us, but we'd rather not cook the bird ourselves.
In preparation for Thanksgiving, that most food-centric of holidays, families have been storming area grocery stores and haggling over Butterball turkeys. But as the big day approaches, some may decide to run far, far away from the kitchen when faced with the imminent arrival of a dozen relatives -- and a meal-prep plan more complicated than a football playbook.
For those shuddering at the thought of cooking a Thanksgiving feast -- or those unable to dine with family -- several St. Louis-area restaurants are throwing open their doors on Thanksgiving Day. Whether you're looking for traditional food or cheap fare, Gut Check has assembled a guide to dining out on Turkey Day. Just be sure to call ahead for reservations or to get your meal to go.
Boston Market
(6690 Clayton Road, Richmond Heights; 314-647-4500)
10 a.m.-6 p.m., $10.99
Grabbing a Thanksgiving meal from Boston Market on November 24 isn't really all that different from grabbing a meal from Boston Market on any other day of the year. Sure it's "homecooked," but getting one of their meals on Thanksgiving seems a little lackluster. Though if you're one of those shameless "cooks" who serves precooked meals as if they're your own, Boston Market may help you impress your more clueless relatives.
Pujols 5 Westport Grill
(342 Westport Plaza, Maryland Heights; 314-439-0505)
11 a.m.-7 p.m., adults $24.95, children $5.95
Will Albert Pujols re-sign with the Cardinals? What does the Pujols family eat on Thanksgiving? If these are the questions that keep you up at night, don your World Series gear and make the trek to Westport for a Thanksgiving buffet at Pujols 5. You may not get to dine with Albert (does he even eat there?), but you can gaze at the hulking bronze statue in his likeness and say a prayer for his safe return to the Cardinals next year.
Cracker Barrel
(10915 New Halls Ferry Rd, Ferguson; 314-868-7080)
11 a.m.-10 p.m., adults $8.99 adult, children $4.49
Like Boston Market, Cracker Barrel's daily menu is chock full of homemade comfort foods like meatloaf and roast chicken. Unlike Boston Market, Cracker Barrel offers a cozy environment for their diners -- that is, if mounted deer heads and hunting rifles are your thing. The menu includes turkey and ham entrées with sweet potato casserole, and it's available to go -- if you want to get away from those deer heads.
Pietro's
(3801 Watson Road; 314-645-9263)
11 a.m.-7 p.m., $18.95
The dining room at Pietro's has been full of good food and good conversation for many Thanksgivings. Grab a table at this family restaurant and enjoy a Thanksgiving menu of roast young tom turkey, roast pork or baked sugar-cured ham. Or throw Thanksgiving tradition right out the window and order cannelloni and a glass of red wine from the regular menu. Who says you have to eat turkey on Thanksgiving?
City Diner
(3139 South Grand Boulevard; 314-772-6100)
11 a.m.-10 p.m., adults $17.95, age ten and under $5.95
Thanksgiving is about American traditions: a homecooked meal, hand-turkey drawings and beating up on your brother in football. City Diner's all-you-can-eat Thanksgiving menu combines these traditions with Route 66 diner décor. It may seem a bit odd to devour turkey and stuffing in the same booth you once demolished a greasy hamburger and fries, but take joy in the fact you're saluting America either way.
Home Wine Kitchen
(7322 Manchester Road, Maplewood; 314-802-7676)
5:30 p.m. and 8 p.m. seatings, $55
The folks at Home Wine Kitchen make diners feel right at home any day of the year. For Thanksgiving, they're busting out the big guns with a main course of turducken. Come enjoy the hospitality of this excellent new Maplewood restsaurant, and you'll feel surrounded by family. But mostly come for the turducken -- how often do you get to devour a chicken stuffed inside a duck and then crammed into a giant turkey? That's what we thought.
Ari's Restaurant and Bar
(3101 Hampton Avenue; 314-644-4264)
11 a.m.-7 p.m., $13.95
On the 24th, this Greek establishment is trading gyros and tzatziki sauce for a traditional Thanksgiving meal. We're not sure how the art of shaving a stack of meat into a pita will translate into a turkey dinner with all the trimmings, but if the turkey is just so-so, the regular menu is available. Adventurous diners may even want to try some tzatziki on their turkey. Opa!
Beef Eaters Pub & Grill
(111 Transit Street, St. Charles; 636-916-5874)
11 a.m.-3 p.m., adults $22.95, children 6-10 $9.95
This St. Charles county restaurant seems a bit hypocritical. Their Thanksgiving buffet menu features bone-in ham, roasted pork, tom turkey, a tray of assorted seafood offerings and what they're just calling "yummy desserts." There's not a single beef offering on the menu, so if that's what you're looking for on Thanksgiving, you won't be able to eat any beef at Beef Eaters.
Bad Dog Bar & Grill
(3960 Chouteau Avenue; 314-652-0011)
6:30 p.m.
Get down with your bad self this Thanksgiving at Bad Dog Ban & Grill's Thanksgiving potluck. This restaurant in Forest Park Southeast's Grove district is asking diners to bring a dish to share, while the restaurant will provide the turkey, mashed potatoes and gravy. Not sure what to bring to impress the crowd? No need to worry: You can always grab a Crave Case from the White Castle next door.
Lemp Mansion Restaurant & Inn
(3322 DeMenil Place; 314-664-8024)
11 a.m.-6 p.m., $24.95
Dine with the dead this Thanksgiving at the haunted Lemp Mansion. The Lemp is replacing their murder-mystery dinner theater for a Thanksgiving dinner served family-style. The historic mansion is always charming around the holidays and the company, including any resident ghosts, is sure to be frightfully fun.