Selecting Riverfront Times' Best of St. Louis 2011 was no picnic. Choosing the winner meant several worthy candidates would go unmentioned -- until now. In this Gut Check series, we are chewing our way through notable runners up in a number of categories. To see hundreds more winners and finalists and download the Riverfront Times Best of St. Louis mobile app, visit our Best of St. Louis homepage.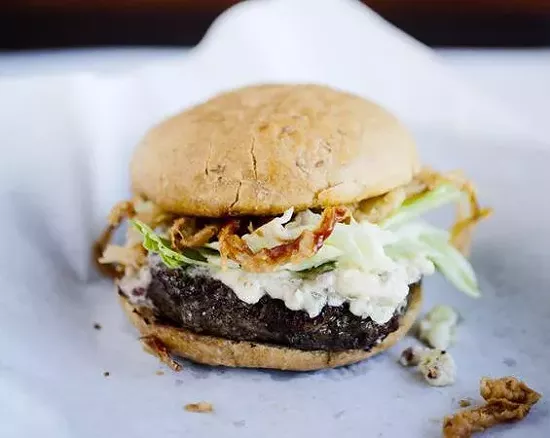 Jennifer Silverberg
A burger from one of this year's finalists
Few foods prompt more debate in St. Louis than the hamburger does. In fact, I can think of only one: pizza. And, as has happened with pizza here over the past few years, no sooner have you concluded what the best burger in town must be, some place new comes along to challenge your beliefs.

In fact, of our five finalists for "Best Burger," three are relatively new restaurants. The winner, though, is an established champ.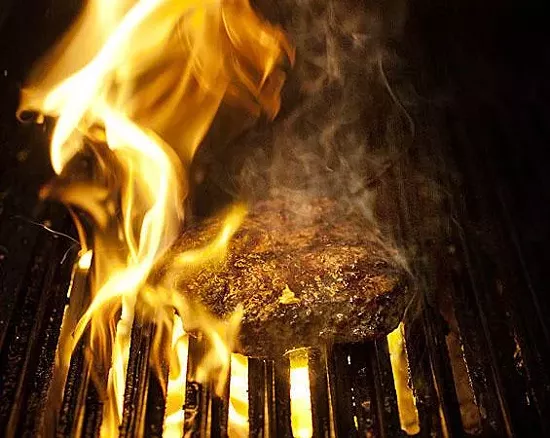 Jennifer Silverberg
A patty on the grill at Dave & Tony's Premium Burger Joint
5. Dave & Tony's Premium Burger Joint (12766 Olive Boulevard, Creve Coeur; 314-439-5100)

This west-county newcomer looks like a national chain, but for now (at least) it remains a stand-alone operation. Though you can top your burger with any number of vegetables, sauces and more, the patty is what sets this Joint apart: beautifully grilled, very juicy and -- unusual for a quick-service operation -- cooked to your liking, including rare and medium-rare.


Ian Froeb
A burger with cheddar and bacon at Deaver's
4. Deaver's Restaurant & Sports Bar (2109 Charbonier Road, Florissant; 314-838-0002)

Local food blogger/podcast host/provocateur Bill Burge has raved for several years about the burger at this unassuming Florissant bar & grill. He's right. The burger is nothing short of fantastic: a medium-rare patty with the ideal proportions of char, beef and juice. The version pictured here, with melted cheddar and crisp, thick bacon, is enough to sate your bloodthirst for a week.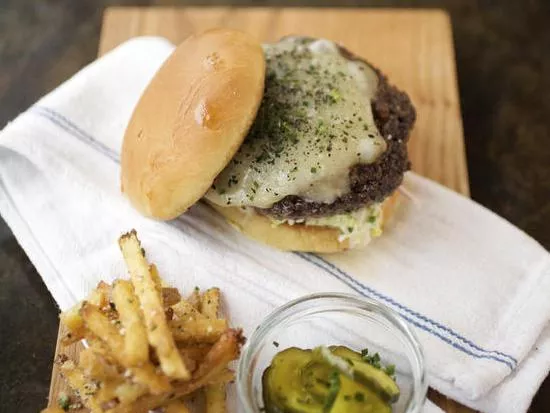 Jennifer Silverberg
The "Tavern Burger" at the Tavern Kitchen & Bar
3. The Tavern Kitchen & Bar (2961 Dougherty Ferry Road, Valley Park; 636-825-0600)

What makes the burger at this year-old Valley Park restaurant such a gem isn't simply the patty -- though that, of course, is very good: loosely hand-formed and very succulent. What puts it over the top is the magical pairing of white cheddar and a tangy, ever-so-sweet and porky "bacon jam."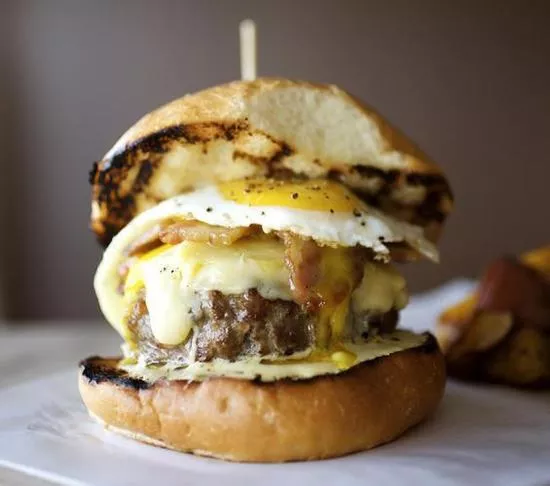 Jennifer Silverberg
The burger at Home Wine Kitchen
2. Home Wine Kitchen (7322 Manchester Road, Maplewood; 314-802-7676)

The burger is one of the very few mainstays on chef and owner Cassy Vires' ever-changing menu, and with good reason: A luscious patty made from grass-fed beef is further elevated by cheddar cheese, a roasted-garlic aioli, bacon...and a fried egg. The egg is the greatest of these indulgences, its gorgeous, runny yolk giving the burger a rich, silken grace note.


Ian Froeb
The famed Five Bistro burger (at its original home, Newstead Tower Public House)
1. Five Bistro (5100 Daggett Avenue; 314-773-5553)

Nothing more than a grass-fed beef on a perfectly baked bun (though you can dress up it a little, if you like), this was twice the best burger in town when chef and owner Anthony Devoti served it at the late Newstead Tower Public House. Devoti has since moved it to the late-night menu at Five Bistro, where it remains the "Best Burger" in St. Louis.