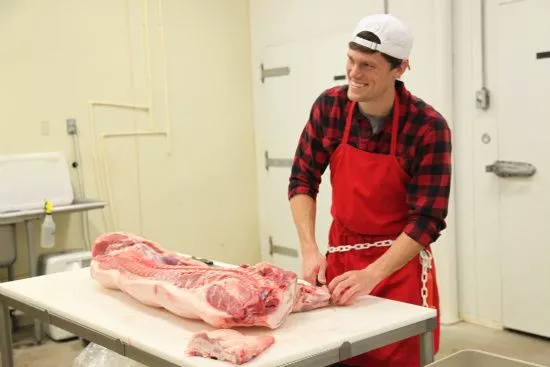 Just west of Washington, Missouri, is the tiny town of Lyon. Hidden in the back of a white-washed country store built in the late 1800s is the facility for t
he Farmers' Larder
, a pork-production company owned and operated by the Matoushek family.
View a full slideshow of Lucian and Anne Matoushek at work producing Farmers' Larder products.
Lucian Matoushek, one half of the mother-son business, has just received two half hogs and is getting ready to butcher them on a large stainless steel table. Wrapped Laura Palmer-style in plastic, these hogs have been skinned, gutted and decapitated. "We get our organic hogs skinned rather than scalded from Todd Geisert Farms," he says, as he pulls out a two-foot handsaw. As he cuts through the thick bones of the pig shanks, Anne Matoushek, Lucian's mother, cleans the hog intestines, which will later be used as casings for their traditional smoked kielbasa.
Watching the Matousheks smoothly go about their work, one would never guess that less than two years ago they had no food or restaurant experience and had never owned their own business. Says Anne, "I was a financial advisor moving quickly through the ranks and not liking it at all." Lucian had a film production and cinematography degree from Webster University and had been working in the film industry for two years. Then the economy changed, and the Matousheks, like so many others, decided to rethink their careers.
It started small. It started reasonable. They would try their hands at gardening wholesome vegetables using organic and sustainable practices and then sell them at some local farmers' markets. That first spring and summer they were elbow-deep in compost, weeding, seeding and sowing. "We had a total crop failure," says Lucian, looking at the sky. "That was frustrating, but it got us thinking about raising livestock instead. What we learned was that there are a reasonable amount of farms raising livestock but not many fabricating and producing it. So, we decided to go in that direction."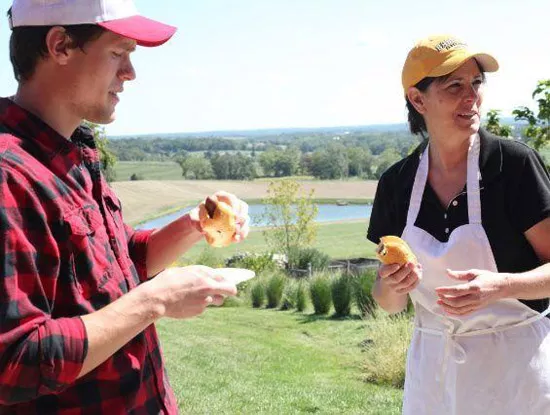 Lucian and Anne threw themselves into researching and learning what it would take to get a small sausage making business started. They joined
The Missouri Association of Meat Processors
. Lucian attended meat science courses at Iowa State University, learning about ratios, meat emulsions, ingredient and quantity guidelines and safety and sanitation. They recipe-tested in their basement, read cookbooks and, as Lucian says, "We ultimately used our own intuition as to what tasted good, looked good, felt right." Starting with simple kielbasa, they now regularly offer andouille, all-beef franks, pork chops and various types of cured bacon.
Now, two-and-a-half years later, they are gearing up for the winter farmers' markets. "Sometimes," says Anne, "you put your head up for a second and wonder how you got there." "I love being my own boss," adds Lucian as Anne nods, "and I really enjoy selling at the markets and meeting people face to face that enjoy our products."
The Matousheks plan to get certified so they can sell in restaurants and, ultimately, raise their own livestock. When asked if raising their own livestock seems like a big leap from being a financial advisor and cinematographer, Lucian replies like a true entrepreneur: "We're so busy that we haven't had time to ruminate about whether or not we're making the right decision. So we might as well think big."
You can find The Farmers' Larder at these winter markets:
St. Louis Community Farmers' Market at St. John's Episcopal Church, 3664 Arsenal Street, second Saturday of the month; November 2011 - April 2012 from 9:00 a.m. - 1:00 p.m.
The Maplewood Farmers' Market at Schlafly Bottleworks, 7260 Southwest Avenue, Nov. 19, Dec. 17, Jan. 28, Feb. 25, and March 31 from 9:00 a.m. - 1:00 p.m.
The Vine Market at St. Stephen's, 33 North Clay Avenue, Ferguson; third Saturday of the month; November 2011 - April 2012 from 9:00 a.m. - 11:30 a.m.
View a full slideshow of Lucian and Anne Matoushek at work producing Farmers' Larder products.