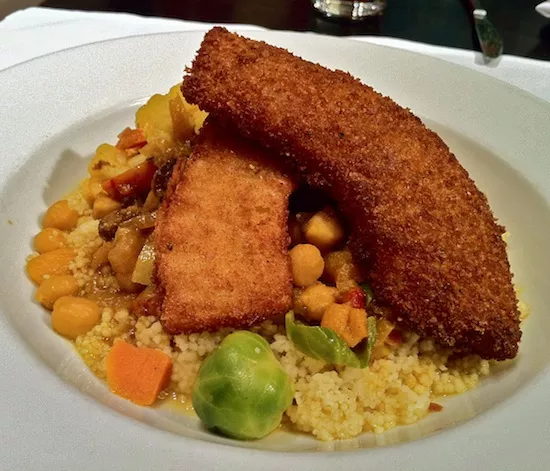 Bryan Peters
Get it while the gettin's good.
Featured on its fall menu, Franco's (1535 South Eighth Street; 314-436-2500) Moroccan vegetable stew is a dish that so embodies the season's bounty, it tastes like a holiday homecoming.
The spices are a special house blend, and even though it features such heavy-hitters as garlic, cumin and star anise, it is expertly balanced. The combination is dizzyingly fragrant, familiar and exotic. The variety of vegetables in the stew, including Brussels sprouts, cauliflower and carrots, are gently sweated while the spices are slowly added, so not only are they cooked to perfection, their flavors become gradually enriched. But it's the crown of fried pumpkin slices that make this dish truly remarkable. Whether or not you're a pumpkin fan, chef Chris Williams' version will make you fall in love.
The stew is served atop a bed of fluffy couscous with some harissa on the side, and all the flavors blend harmoniously together in a way all your family members never can. Both rustic and refined, the Moroccan stew is Franco's most recent marvel.