We love pumpkins! We just want to carve 'em, roast their seeds and then bake the guts into all kinds of awesome. So, this autumn, we're on a quest for the tastiest local pumpkin goodies, before the fleeting flavor is gone. Do you have a favorite local seasonal pumpkin food? E-mail [email protected]. Check out our other fall and Thanksgiving coverage over at Gobble Gobble.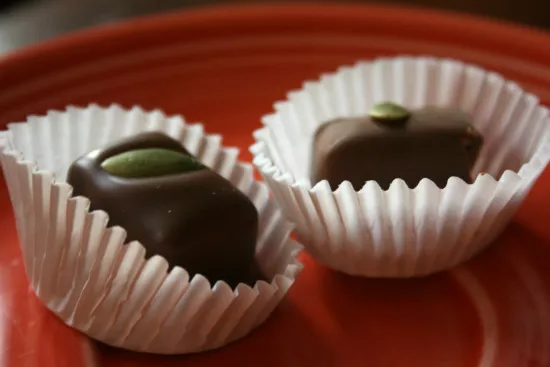 When visiting
Kakao Chocolate
(7272 Manchester Road, Maplewood; 314-645-4446)
, it's best to simply give in. Indulge. Resistance is futile. You can try all you like to stick to window-shopping, but once you begin browsing the display of delectable barks, caramels and truffles, your self control is best re-purposed towards something more practical. Like limiting yourself to, say, only five treats.
While Kakao has standard confections that are always available (we go back again and again for those dark-chocolate sea-salt caramels), the chocolatiers are constantly experimenting. You can count on something new with every visit, even if, like us, you maybe visit a bit more often than you should.
One of Kakao's newest creations is a delicate truffle topped with a pumpkin seed. After breaking through the crisp chocolate shell, you're greeted with a smooth, creamy dollop of pumpkin and spice. The truffle's center is definitely a shout-out to pumpkin pie, with a more subdued pumpkin flavor that complements the smooth, decadent texture.
Sure, these truffles are rather rich. You might be able to stop after one. But since Kakao will gladly wrap up extra treats to go, why not grab a few for the road?