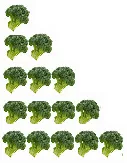 The Veggielante has had it up to here with people bitching that St. Louis restaurants are vegetarian unfriendly. Sure, we'd like to see more restaurants offering more meatless dishes, but there are excellent choices out there if you take the trouble to look for them. We're not here to proselytize about greening up your diet. Our only motive is to spread the word about places where you can order good grub that ain't got no meat. To enhance your reading experience, we've settled on a handful of criteria we'll use to suss out a restaurant's vegetarian friendliness.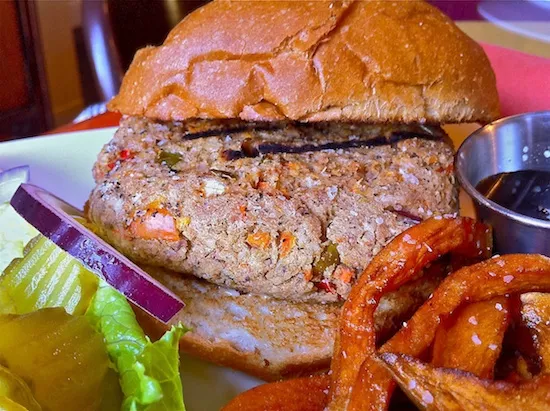 Bryan Peters
Grace Manor's black-eyed pea burger.
Destination: Grace Manor (1801 North Main Street, Edwardsville Illinois; 618-655-0650)
Neighborhood: Edwardsville
Overview: After our trip to the impressive Peel, we decided to create an Edwardsville trilogy. For Part Two, this week we're looking at Grace Manor. Grace Manor sits peacefully on the northwest end of Edwardsville's main drag, tucked away from the hubbub of Main Street. Since purchasing the restaurant in 2009, executive chef and owner Debra Grace has relied primarily on word of mouth to generate business. With food as good and as interesting as her black-eyed pea burger and Ozark Forest Mushroom burger, folks'll be talking a lot about this place.
The Grub: What caught our eye first about the black-eyed pea burger is that it comes nestled in between a Companion brioche bun. The patty itself isn't the most attractive we've seen, but the flavors are as colorful as you need them to be, starring bold jalapenos and Sriracha mayo. There are plenty of other veggies mixed in for good measure, making this one of the heartiest patties around.
Chef Grace's inventiveness pushed her to include a second veggie patty on her lunch menu, which is something you don't often see outside of vegetarian restaurants. We're thankful not just for the gesture, but also for the quality and diversity of these two patties. Her Ozark Forest Mushroom burger is loaded with many different organic mushrooms, and we loved the addition of rosemary and thyme.
Bryan Peters
This mushroom burger will have you buzzin.
Seasonality/sourcing: Grace Manor provides an extensive list of the local vendors and farmers -- from Chauvin Coffee to Ozark Forest Mushrooms -- they use for their produce. They've even teamed up with Lebanon's Fezziwig's Marketplace to create suggestions for food and tea pairings.
Resistance to clichés (vegetable medleys, pre-made veggie burgers, etc.): We were stunned by Grace Manor's eclectic menu, which offers unique items like kale chips, quinoa salads and eggplant sliders.
Improvisations & accommodations (vegan, gluten-free, etc.): Though the menu isn't overtly vegan-friendly, vegans can get along just fine here, as Chef Grace is committed to providing healthful food to all comers.
Extra credit: The cozy décor and friendly staff.
Overall score:
Standout item: Black-eyed-pea burger