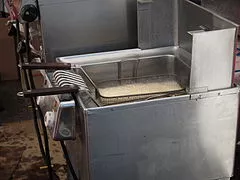 Wikimedia Commons
Got grease? Thieves do.
Lock up your grease! It's in high demand. Again. This time, it's local. d.Dooley's 026 Grill (568 Old Smizer Mill, Fenton; 636-343-9268) owner Dan Dooley told FOX 2 that the restaurant's been hit by grease thieves seven times in the past year.
St. Louis Wing Co. (9816 Manchester Road, Rock Hill; 314-962-9464) owner Bobby Tessler told the Post-Dispatch that he's lost around $2,000 to grease thieves since opening his restaurant in April. Three teens were spotted stealing grease from Tessler and neighboring restaurants on September 26. One was arrested but hasn't been charged. The suspects came from Springfield.
KSDK-TV (Channel 5) reported that St. Louis City police arrested Ryan and Gary Vaughn, also of Springfield, with stealing grease from Hong Kong Express (3406 South Jefferson Avenue; 314-771-3838). On November 2, the brothers stole a grease tank that had been placed outside the restaurant for recycling.
Local recyclers currently pay around $1.15 a gallon for used fryer grease, which is purchased by rendering companies and converted into biodiesel.