We love pumpkins! We just want to carve 'em, roast their seeds and then bake the guts into all kinds of awesome. So, this autumn, we're on a quest for the tastiest local pumpkin goodies, before the fleeting flavor is gone. Do you have a favorite local seasonal pumpkin food? E-mail tips@riverfronttimes.com. Check out our other fall and Thanksgiving coverage over at Gobble Gobble.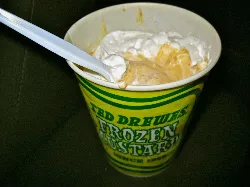 Eating a slice of homemade pumpkin pie around the holidays is almost like a science. Pick the perfect slice, add a scoop of vanilla ice cream and top with a curl of whipped cream. Luckily, Ted Drewes (6726 Chippewa Street; 314-481-2652) has taken these steps and mashed them all together into its seasonal Great Pumpkin - a blend of pumpkin pie, vanilla custard and whipped cream.
The Great Pumpkin turns Ted Drewes' famous frozen custard bright harvest orange. It tastes like someone put your grandma's famous pumpkin pie into a blender, complete with chewy bits of pie crust that provide some texture. For $3.50, you can have this classic Thanksgiving dessert all in one cup, no oven required.
The best part is that, unlike Charlie Brown's Great Pumpkin, which only rises out of the pumpkin patch on Halloween, the Great Pumpkin custard at Ted Drewes sticks around for the duration of the fall season.