Armed with a rich culinary pedigree and an armful of accolades including a James Beard Award nomination, Memphis-based chef Kelly English's newest venture, Kelly English Steakhouse (777 Casino Center Drive, Maryland Heights; 314-770-8100), anchors the main entrance to Harrah's Casino. Among the flashing lights and cha-ching of slot machines is a modern steakhouse with a Cajun/Creole flair.
First, let's get this out of the way: The Kelly English Steakhouse is a carnivore's paradise, laden with steaks and seafood (Gut Check counted a total of two items that would be vegetarian friendly). The menu also pairs steakhouse staples such as onion soup, half-shell oysters and beef carpaccio with English's Cajun favorites. Even the bread service has a touch of the South, with a house made pimento cheese accompanying the butter.
"We really took the time [on the menu] to honor the steakhouse of old and match it with my personality," English says. "We wanted to accomplish this restaurant where, if you wanted to come in for a filet and a baked potato you could, but if you wanted to come in and have a different kind food... I think we did a good job of pleasing two sets of people."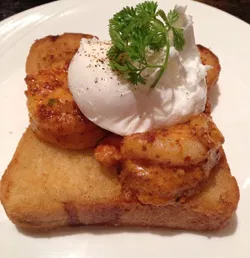 Evan C. Jones
the Creole Midnight Snack
One of those favorites is the Creole Midnight Snack: three large shrimp in a remoulade sauce on top of a toasted piece of brioche crowned with a poached egg. English called this the "favorite thing at the restaurant" and said it was served at debutant balls and parties to help "keep the party going and help people get home." There was some bite from the spice and whole grain mustard in the sauce that was softened from the yolk, and the thick brioche supported all the other components.
The meat at Kelly English Steakhouse is all sourced from Missouri farms. This is something that is important to English, rather than the typical emphasis on the aging process.
"The classifications of [meat] have fallen by the way side because people are so interested in substantially raised agriculture," English says. "Our biggest qualification is that they come from local areas that we know they're being treated well."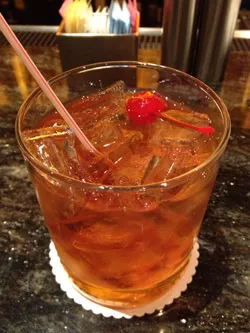 The entrees feature two filets, a bone-in ribeye and a porterhouse, as well as a take on the classic Carpetbagger: a New York strip stuffed with fried oysters and blue cheese (for those wanting a more traditional Surf and Turf meal, a lobster tail can be added to any steak). Pork chops, chicken and seafood round out the dinner menu.
English plans to split his time between Restaurant Iris in Memphis and the Steakhouse "as needed" and also says he's looking forward to exploring St. Louis' food scene more. "Niche is one of the best meals I've had in my life," he says. "St. Louis is a great food town."