We love pumpkins! We just want to carve 'em, roast their seeds and then bake the guts into all kinds of awesome. So, this autumn, we're on a quest for the tastiest local pumpkin goodies, before the fleeting flavor is gone. Do you have a favorite local seasonal pumpkin food? E-mail [email protected]. Check out our other fall and Thanksgiving coverage over at Gobble Gobble.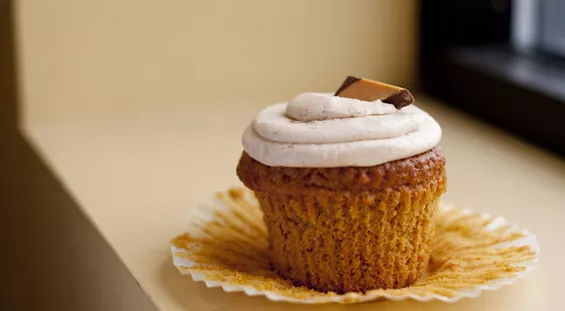 Kholood Eid
The Pumpkin Harvest.
​
The Cup
(28 South Maryland Plaza; 314-367-6111)
has introduced more than a dozen delectable flavors to St. Louis since its arrival in 2007. But few compare to the seasonal "Pumpkin Harvest."
This moist pumpkin-spice cake, topped with its not-too-overwhelming cinnamon buttercream, tastes like how autumn feels at its peak in mid-October. Take a bite, close your eyes and see flashes of warm colors mingle with sunlight. That's how good this dessert is. And that small chunk of chocolate-pumpkin bark on top will round out the experience (yes, this cupcake is an experience) with a lovely, balanced aftertaste that will linger in your mouth -- and on your mind.
The "Pumpkin Harvest" is rich without being too heavy, but it's perfect for sharing with someone who makes ya feel all warm and fuzzy inside (this treat will only enhance those feelings).
Should any ill feelings arise from the "Pumpkin Harvest," it's only this: We all hate when a good thing comes to an end. And, eventually, after the last bit of buttercream is licked off the plate and the bitter sting of another cold winter approaches, this too shall pass.