Mabel Suen
Amanda Doyle with a croissant and cappuccino from Rue Lafayette, a destination in her guidebook.
Sometimes it's fun to be a tourist in your own town. And now local writer Amanda Doyle makes it easier than ever to enjoy all the sights, sounds and tastes of St. Louis with her brand-new book, Finally, A Locally Produced Guidebook to St. Louis By and For St. Louisans, Neighborhood by Neighborhood. As the title implies, the thoroughly thought-out mental map to everyone's favorite Midwest city (OK, so Gut Check is a bit biased) intuitively outlines the best stops in town in a way that makes sense for long-time residents and newcomers alike.
Having worked for the past eleven years as associate editor of Where Magazine-St. Louis, a monthly publication distributed to guests at area hotels, Doyle has amassed quite a knowledge base.
"I find St. Louis to be very friendly. It's maybe a little sleepy in some ways, but I think if you make a little bit of an effort, you will find it easy to love and it will love you back," says Doyle. "It's not a place where all the great things about it are completely obvious, but there's a lot worth knowing that takes a little bit of digging, and I like that."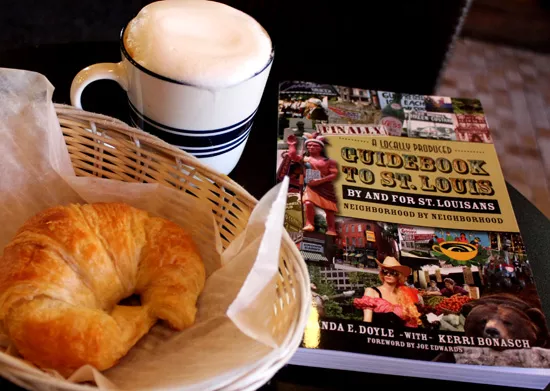 The fact that the city is explorable neighborhood by neighborhood makes it more approachable -- and it provides a convenient and functional organizing principle for Doyle's neatly designed book. Finally incorporates plenty of eye-catching tidbits into its attractively angular layout and enhances the reader's geographical literacy by grouping neighborhoods into regions, focusing on drinks and dining, shopping, arts and culture, kid-friendly tips (inspired by her three-year-old son, Milo), special highlights and more. Doyle's coverage area stretches all the way from Wentzville to Edwardsville and Maryville.
When asked what she hopes people will take away from her book, Doyle says, "I hope they'll be endlessly delighted by St. Louis, because I am. I hope people get out of their ruts. It's really hard when you can't even do the things you know on a frequent enough basis, and it's hard to push yourself to try new things. I want to encourage people to keep taking chances, because that's how you find the places you love."
For information on how to get your hands on a copy of Finally, A Locally Produced Guidebook to St. Louis By and For St. Louisans, Neighborhood by Neighborhood, visit Doyle's website, Stlguidebook.
Read on for an interview with Amanda Doyle about her favorite restaurants and what makes St. Louis special.
Finally! A Locally Produced Guidebook to St. Louis, By and For St. Louisans, Neighborhood By Neighborhood (Trailer) from bill streeter on Vimeo.