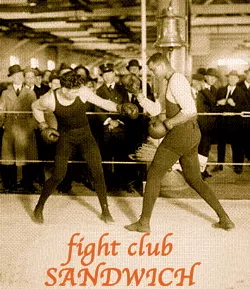 Gut Check was craving a big sloppy gob of calories the other day when it hit us: Time to go to
Kentucky Fried Chicken
. After all, KFC is the brains behind the
Double Down
, the breadless chicken sandwich with the bacon, cheese and the devil himself (we call him "The Colonel") hiding inside.
With ridiculous ideas like the Double Down, we knew that KFC would not disappoint. But rather than opting for a sandwich or bucket of legs, we decided to try the restaurant's "famous" bowls. But which one? Never fear, Fight Club Sandwich Bowls is here.
The Contenders
Traditional Famous Bowl
:
Resembling a sodium-packed sundae, the traditional bowl starts with a ridiculous amount of mashed potatoes smothered in gravy and corn. Then, it is topped with some chicken-tender chunks and sprinkled with just a splash of cheese.
Cheesy Bacon Bowl
:
Really, the only difference between the cheesy bacon bowl and the traditional bowl is the addition of the bacon. But therein lies the problem. There is hardly any fried swine to be found in this bowl. Ditto the "blend of three cheeses" that would make this dish as "cheesy" as advertised.


The Verdict
:
Ashley Atkins
KFC's Cheesy Bacon Bowl
Ashley Atkins
KFC's Cheesy Bacon Bowl
​So, which bowl won? Suffice to say, we weren't bowled over by either one of them. But if we must declare a winner -- and we must, darn it! -- then we'll give it to the cheesy bacon bowl.
Why? Because as the KFC slogan states: "Everything is better with bacon." Now we know that mantra is true even with minuscule amounts of pork-belly goodness.
We also admire that, with its bowls, KFC is willing to market a product that looks worthy of an appearance on
Fear Factor
. Bold move.