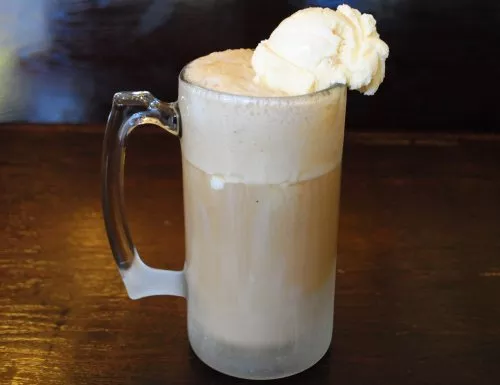 Julia Gabbert
Root beer float at Dr. Jazz
Dr. Jazz Soda Fountain and Grille (29 N. Gore; 314-961-5299) is a homey little restaurant in charming Webster Groves. Dr. Jazz serves up your typical club sandwiches, burgers and lots of comfort food like chili fries and onion rings. The best part, though, is the dessert section. The entire back page of the tattered, old time-y menu is dedicated to sundaes, cones, floats and your favorite confections. The best of which is the classic root beer float.
Anybody who's anybody loves a root beer float, and Dr. Jazz has mastered the craft. Served in a huge 32oz. frosty glass, this root beer float has plenty of froth and plenty of fizz. A heaping scoop of creamy vanilla ice cream (from the award-winning Cedar Crest Ice Cream based out of Wisconsin) is wedged right on the edge of the glass, just dipping into the cold Barq's root beer. The hefty portion, while officially a dessert, could easily be an entire meal in and of itself.
Dr. Jazz is definitely worth a visit, both for the food and the atmosphere. Opened by George Hessler (the doctor himself) and his wife Merrille "Sissy" MacLellan in 2008, Dr. Jazz is family owned and largely operated. The inside decor will excite the child in everyone, with its model train set, antique toys and mural of the 1904 World's Fair. It's a nice, quaint family joint with desserts that will leave a smile on your face every time.
Beginning last year, RFT restaurant critic Ian Froeb counted down -- in no particular order -- 100 of his favorite dishes in St. Louis. Now Gut Check has taken up where he left off. Check back frequently as we detail our 100 favorites, and don't hesitate to send us yours, too, either via the comments thread or at tips@riverfronttimes.com.
Previously:
#52: Le Croque Monsieur at LaBonne Bouchée #53: Biscuits and Wild Mushroom Gravy at Blood and Sand #54: The Gracey at Fozzie's Sandwich Emporium #55: The Sun-Dried Tomato Pizza at Katie's Pizzeria #56: Brioche French Toast at Half & Half #57: Fish and Chips at Llywelyn's #58: Chicken Kabob at Al Waha #59: Seafood Ravioli at Gian-Tony's Ristorante #60: Raw Veggie Burger at PuraVegan #61: Hot Chick On-a Stick at Fast Eddie's Bon Air #62: Mixed Grill Platter at Flaco's Cocina #63: Arancini From Mangia Mobile #64: Three Coins in the Fountain at the Fountain on Locust #65: Pan-Fried Noodles at Pho Grand #66: Pastelitos at Fritanga # 67: Bento Box at Blue Ocean Sushi # 68: Lamb Burger at The Scottish Arms #69: Crispy Pork Spring Rolls at Bobo Noodle House
#70: Turkey Melt and Field Greens Salad at Schlafly Bottleworks #71: The Vegetarian Platter at Ranoush #72: Vegetarian Meatballs at Lucas Park Grille #73: Sizzling Rice Soup at Hunan and Peking Garden #74: Straw and Hay Pasta at Trattoria Marcella #75: Spaghetti Pomodoro at Babbo's Spaghetteria #76: Shrimp Fajitas at El Matador #77: Vegetable Quesadilla at Chava's #78: Companion Rustic Olive Bread #79: Salt and Pepper Shrimp from Wei Hong #80: Ba-Mee Mhoo Dang at Basil Spice #81: Catfish Platter at the Gumbo Shop #82: Shrimp & Andouille Flatbread at the Shaved Duck #83: Vegetarian Pasta at Terrene #84: Seafood Stuffed Mushrooms at Zia's #85: Legend Club at LeGrand's Market & Catering #86: City Coffeehouse & Crêperie's Nutella-Banana Crêpe #87: Raw Vegetable Lasagna at Scape #88: Quesadilla Azteca from Tower Tacos #89: The Perfect Pear at Foundation Grounds #90: Banh Mi Sandwich from Sweet Art #91: Chicken and Dumplings at Yummies Soul Food Cafe #92: Cuban Sandwich from La Tropicana #93: The Prosperity at Ruma's Deli #94: Cherry Cheese Danish from Missouri Baking Company #95: Bread Pudding with Whiskey Sauce at Ruth's Chris Steakhouse #96: Egg Salad Sandwich at Township Grocer #97: Cheeseburger and Fries (Extra Crispy) at O'Connell's Pub #98 Mussels & Fries at Brasserie by Niche #99: Beef Taquitos Mexicanos at El Indio #100: Spinach Artichoke Dip at Cafe Eau