Every year, we wait until the last minute to pick out our Halloween costume, and this year was no exception. We refuse to go the all-too-easy "slutty" route (we have class!), and we're bored with Jokers and Jesuses. So we decided to go with what we know: food.
Spirit Halloween (301 Costco Way, St. Peters; 636-279-1054) humored us and our indecision, allowing Gut Check to take over the store and play edible dress-up for a few hours.
Photographic evidence of our foodie fashion suggestions after the jump.
1. Banana
You can often find a random banana amongst the crowd at a sporting event or concert. It's the attention seeker's go-to ensemble. So why not wear one for Halloween?
Putting on this costume almost guarantees someone (OK, probably you) will dance around and sing "Peanut Butter Jelly Time" and/or "I'm a Banana! I'm a Banana!"
The banana costume is one of the most classic and least expensive food costumes we found, ringing in at $29.99.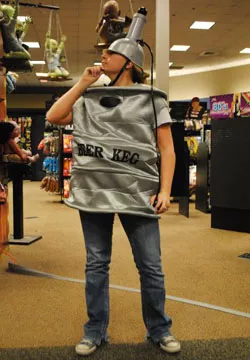 2. Beer Keg
You won't have to worry about stocking up for that BYOB Halloween party this year -- with this costume, you're already covered.
The beer keg is one of the more elaborate food costumes, complete with a functioning beverage container attached to the hat that connects to a spout for easy pouring. You can be the life of the party for $49.99.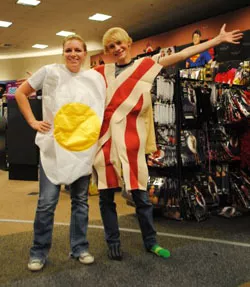 3. Eggs and Bacon So you're all about getting an awesome food-related costume for Halloween, but then what is your best friend/significant other going to do? There are plenty of costumes that come in pairs, but none better than everyone's favorite breakfast combination: bacon and eggs!
This set comes with one sunny-side-up egg and a few slices of flimsy bacon. At $49.99 for two costumes, it's the best value we found.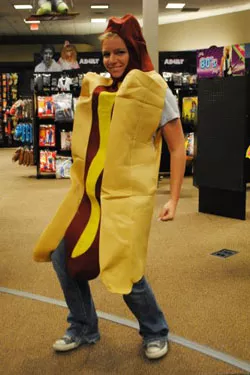 4. Hot Dog For the all-American Hallowieners out there, a hot-dog costume is the perfect fit. It's a simple costume -- just a hot dog in a bun with a stripe of mustard -- but a patriotic favorite that can double as your outfit for games six and seven (that's right, seven) of the World Series.
The hot dog is another relatively inexpensive costume, at only $29.99, plus the cost of hearing wiener jokes all night.
5. Burger King For some reason, that creepy Burger King king was pretty big for a while, with his own commercials and video games. He's gone now, and we don't miss him. Although the king is dead, his memory remains through his appropriately terrifying Halloween costume.
With this pricey costume, you're probably just paying for a name. It's $59.99, more expensive than any of the other food costumes. On the bright side, though, you get not only a cape and a mask, but a blingin' BK chain.
6. Peanut To mirror the ballgame feel of the hot-dog costume, we present the peanut. It's really too bad we couldn't find a Cracker Jack costume, otherwise it could be a set. Anyone with a peanut allergy can vouch for us -- this is a pretty scary getup.
The peanut costume is $34.99 and promises to show off that sexy hourglass figure.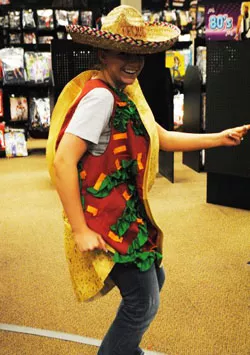 7. Taco One of the most festive costumes we found was the taco. A crunchy-looking taco shell is filled with what looks like lettuce, some red stuff we're assuming is seasoned beef and some other orange stuff that looks more like carrots than anything else. Mmm, authentic!
While not sold with the sombrero, the picture on the bag has one, and we feel it's only appropriate. The costume by itself runs at $39.99.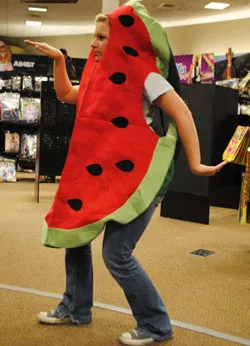 8. Watermelon Summer may be over, but that doesn't mean you have to completely give up all of its perks. To protest the cooler oncoming weather, why not dress up as one of summer's most refreshing fruits?
Seeds and all, the watermelon costume is one of the heftiest food costumes, which is probably why it costs $49.99.