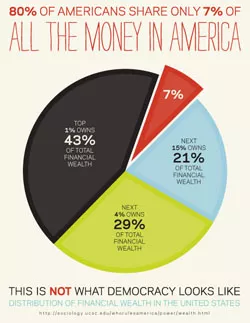 The Occupy protests are unique in that participants aren't holding out for any particular demands to be met. They just want to talk to you.
And Occupy St. Louis has found a great way to illustrate their point and begin a dialogue: literally handing out equal shares of the (pizza) pie.
Susie Chasnoff, organizer of Occu-Pie St. Louis, asked local businesses to donate pizzas for the cause, and Pi Pizzeria heeded that call, offering up ten large pies. The protesters will hand out flyers with each slice.
"The flyer illustrates that the top 1% in our country have 43% of the financial wealth...and the bottom 80% of the people in this country have 7% of the wealth. Our big spotlight right now is on that inequity," Chasnoff explains. Occupy St. Louis hopes to use the tasty event to promote Bank Transfer Day on November 5, when Americans are encouraged to close accounts at large banks and move their assets to local banks and credit unions.

Initially, the idea was that some of the World Series attendees would stop for the Pi and stay for the dialogue. The event will still be held despite the game's delay; Chasnoff plans to be handing out slices by 5:30 p.m.