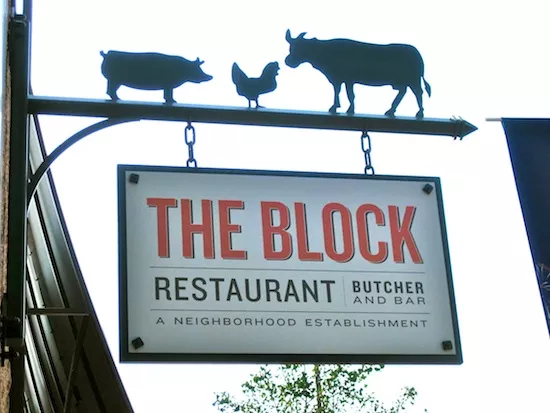 The Block
(146 West Lockwood Avenue, Webster Groves; 314-918-7900)
is a neighborhood restaurant, but it sure isn't your typical neighborhood joint. I visit the Block this week. Follow me after the jump for a sneak peek at my review.
The Block is a four-month-old restaurant on Lockwood Avenue in Webster Groves. It's also a double entendre. Management has branded this venture as a "neighborhood establishment," said neighborhood being Old Webster. The other side of the pun, of course, is the butcher block, and as surely as function follows form, the Block cuts its meat in-house (which is not all that unusual) and will wrap those cuts in butcher paper and sell 'em to you to tote home and cook for yourself (which is).

To my surprise, I found the Block's "neighborhood" aspect to be the more intriguing of its dual manifestations.
Visit
the RFT restaurant page
late this afternoon or check back here tomorrow morning to read the entire review.