Welcome to Girl Walks Into a Bar, a weekly Gut Check feature that spotlights local bars and bartenders. This week, Sarah Baraba profiles Onesto Pizza & Trattoria's Todd Brutcher. Below is a Q&A with Brutcher, followed by his recipe for Butternut-Apple Sangria.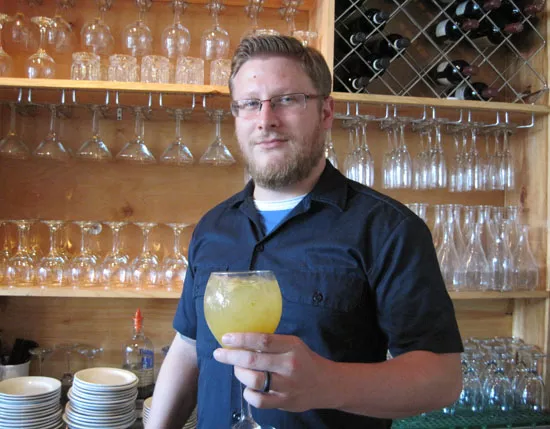 Todd Brutcher has a pretty good gig. He gets to play Mad Sangria Scientist for Onesto Pizza & Trattoria (5401 Finkman Street; 314-802-8883). He started out in the restaurant industry in his teens as a dishwasher. A few years and eateries later, he became floor manager and head server for Onesto. After learning some sangria secrets from a former co-worker, he was hooked. He whips up a handful of sangria (and cocktail) recipes for the Princeton Heights restaurant each month.
"I just kind of fell into it," he says. "Now I won't let anyone else touch it. If I know I'm going to be off, I'll make enough for a few days. I'm getting such a following, I don't want anyone else to make it!"
You may be thinking, what's so great about sangria? Throw some mediocre wine, sugar, a few apple slices in a pitcher and you're set, right? Wrong. At Onesto, Brutcher has reinvented the Spanish wine punch. For Gut Check, he poured a glass of his Butternut-Apple Sangria made from roasted, locally grown butternut squash and apples that he cooked on the stovetop. He then pureed the fall bounty, and painstakingly pushed the mushy mixture through a sieve -- by hand. The result is buttery, bright and beautiful. Oh, and incredibly tasty.
Describe your bartending style in tree words... Seasonal, for sure. Local, all of our food is local. And fun.
A girl walks into a bar and orders a ________. She has just earned your undying admiration. Anything with whiskey, I don't like whiskey, but if a girl ordered whiskey right in front of me, I would nod and smile a little bit.
Other than your own place, where do you go to get a good drink and what do you get? Honestly, just a Guinness somewhere. Tower Pub probably, or if I just wanted a Busch, I would go to Walkers.
What's one thing most people don't realize about crafting cocktails and sangria? It takes a lot of thought, especially if you're trying to create something new. Anybody can make a vodka tonic, but to really think what flavor you're going to use, especially when you're doing the seasonal aspect, it takes a lot more thought than people would think. In the sangria's case, a lot of people just think I throw fruit in wine and let it sit for a day. I'm cooking the fruit and put[ting] it through a sieve. Half the time my arm hurts after putting everything trough the sieve. People are shocked when I tell them it takes an hour to make.
Who would you most like to have a drink with? Bob Plager, an old Blues player, one of the originals.
What is the most bizarre/ stupidest/ dumbass drink anyone has ordered from you? Somebody tried to order a vodka, scotch and Sprite once. I think the look on my face talked him out of it. What's the coolest/ weirdest thing you've witnessed while working? I'd say the most surreal was Valentine's Day a couple years ago. We had an older gentleman playing the accordion. We're busy, we're slammed I'm running around and he's playing and all the sudden one of the owners said, "Is there a woman singing?" I look up and it's my mom, drunk on my sangria, with the accordion player. When she was done the whole place clapped for both of them.
Butternut-Apple Sangria
¼ Butternut Squash, diced
2 Granny Smith apples, cored and diced
1 cup sugar
1 cup water
¼ bottle clear rum
2 bottles dry white wine (Brutcher suggests Sauvignon Blanc or Pinot Grigio)
Pre-heat oven to 400 degrees. Roast butternut squash in oven for 15-20 until tender. On stove top combine apples, sugar and water. Cook until boiling. Let squash and apples cool, then puree in blender on high until apple sauce consistency is achieved. Combine mixture, wine and rum. Stir. Serve over ice, garnish with chopped or sliced apple. (Brutcher recommends letting the drink sit for a few days before serving.)