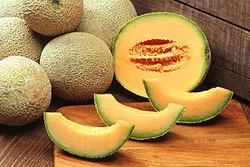 Wikimedia Commons
Cantaloupe listeria source found.
As the death toll from the Rocky Ford cantaloupe listeria outbreak rises to 25, the Food and Drug Administration has pinpointed the contamination's source.
Government inspectors found listeria bacteria in standing water on the floor of Jensen Farms' cantaloupe-packing facility in Colorado. In July the farm purchased used processing equipment from a potato farm, which investigators found to be corroded and hard to clean. The melons could have picked up the bacteria from the machines.
Other unsanitary conditions included a dump truck used to haul melons to a cattle feedlot, and improper cooling techniques that could allow condensation to linger on the cantaloupes, providing a suitable environment for bacterial growth.
No listeria was found in melons tested in Jensen Farms' field.
Cantaloupes currently for sale did not come from Jensen Farms and are assumed to be safe. Patients can develop listeria up to two months after consuming the bacteria. The tainted melons were recalled in September, so more illnesses are possible.
As the cantaloupe listeria mystery comes to an end, the bagged salad salmonella mystery begins.
Taylor Farms Retail Inc. has voluntarily recalled 3,265 cases of various bagged salads after salmonella bacteria was found in the company's bagged spinach during a random screening by the Washington state agriculture department. The salads were sold in fourteen states, including Missouri, under the Fresh Selects, Marketside, HEB and Taylor Farms brand names. No illnesses have been reported.