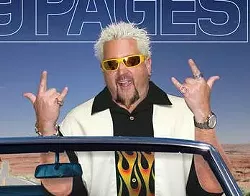 So we've been a little obsessed with
Guy Fieri
the past couple of weeks, thanks to
the feature story about former Diners, Drive-Ins and Dives producer David Page in our sister paper City Pages
.
The latest embarrassing revelation about the spiky-haired superstar chef isn't really his fault, though. Heck, you could argue that it's not really embarrassing for him, and not only because scientists have yet to determine whether Fieri is capable of feeling embarrassed.
Food Network Humor stumbled upon
an ad for Scripps Network Digital Food websites
(which include the Food Network and the Cooking Channel) that features a photo of Guy Fieri as it implores potential advertisers to buy space on its sites for the upcoming holiday season.
What's wrong with this ad? A screenshot is after the jump. See if you can spot what makes the picture of Fieri so...shocking.
Yep. Fieri is making the
shocker
hand gesture, and to the best of Gut Check's knowledge, the chef has no connection to Wichita State.
(h/t: Pretty much everyone on the Internet)