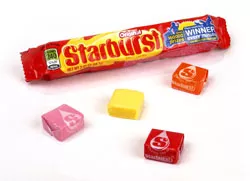 It wasn't all that long ago that Gut Check was donning our finest Disney princess Star Wars character drag outfit and joining the swarms of greedy American children on the hallowed Halloween quest for candy. So we remember well the post-trick-or-treat ritual of sorting the bounty into two piles, i.e., Good Stuff and Crap.
Then we'd head back out and t.p. all the houses where we'd been handed lame candy. We considered the act to be a hint to the clueless to maybe bust out the Snickers next year instead of those execrable homemade popcorn balls. A community service, if you will.
Now we're on the other side of the door, trick-or-treatily speaking, and we're also working from a position of strength when it comes to stamping out Halloween-candy imbecility.
Want to avoid having your happy home t.p.'ed this year? Check back each weekday between now and the Big Day as we count down the 21 Best Halloween Treats and the 21 Worst Halloween Treats...
Best Halloween Candy Countdown, No. 10: Starbursts
No one turns down a Starburst. Especially a red one. These little squares of juicy goodness possess the power to bring any candy critic to complete ecstasy the moment they hit the palate. With every chew, it's like a citrus-parade march over every taste bud, complete with lemon explosions and strawberry drumbeats. And don't even get us started on FaveReds.
Click through to reveal No. 10 on the Worst Halloween Candy list...
Worst Halloween Candy Countdown, No. 10: Smarties
How do you tell where the cheapskates live on your block? Easy. Whichever house gives out a pound of Smarties per kid instead of fronting the extra two bucks for a bag of chocolate. If we wanted to choke down dozens of pastel, chalk-flavored tablets, we'd just down a bottle of Tums and call it a day; at least they're designed to soothe stomach aches instead of cause them. The real "smarties" avoid these pathetic excuses for candy.
Check out the rest of our Best and Worst Halloween Candy Countdown.