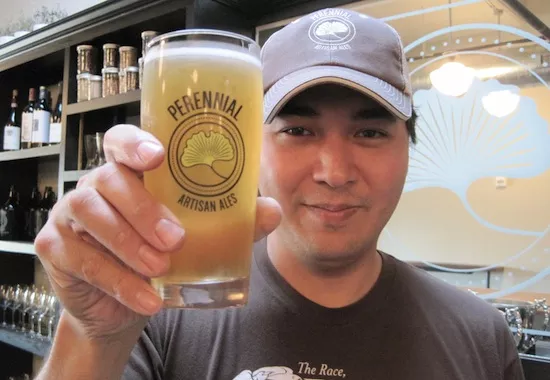 Sarah Baraba
Phil Wymore, who founded Perennial Artisan Ales with his wife, Emily
If it feels like the list of local craft breweries keeps growing -- you're right. To that never-ending list add
Perennial Artisan Ales
(8125 Michigan Avenue; 314-631-7300)
, a brewery and tasting room nestled in the Carondelet neighborhood. Though Perennial's official grand opening is slotted for Saturday, October 15, taps have been pouring since early September.
Perennial has been a long time coming for brewmaster
Phil Wymore
, who hails from Weston, a town northwest of Kansas City.
Though he is new to St. Louis, Wymore is no stranger to beer. He planted his roots working as an assistant for the now closed Grindstone Brewery in Columbia. After graduating from Mizzou he moved north to Chicago to work for
Goose Island
, studied brewing at the Siebel Institute and later brewed for
Windy City craft brewery Half Acre Beer Co
. With all those years of experience under his belt, he began developing his own vision -- and chose St. Louis to pursue it.
"Missouri is the perfect market," he says. "The evidence is four craft breweries, with tasting rooms, opening up in St. Louis in 2011. That's pretty crazy."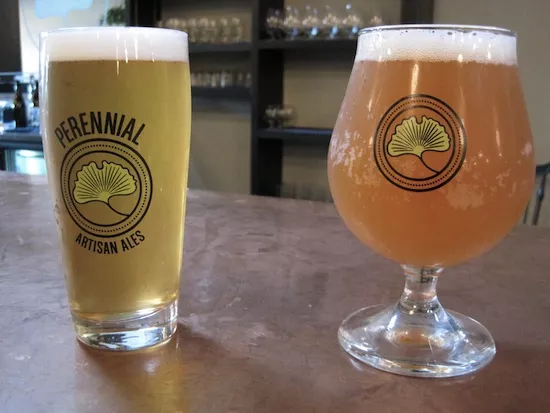 Sarah Baraba
Glasses of Perennial's Southside Blonde (left) and Hommel beers
Wymore runs the operation with his wife, Emily, a St. Louis area native. In the short time the duo has been in St. Louis, they've worked hard to break into the local scene, partnering with Slow Food St. Louis and establishing relationships with local farms to source the ingredients in their beer's adventurous flavors.
Perennial's two flagship beers, Hommel Bier and Southside Blonde, are refreshing, drinkable and definitely up to the flavor expectations built by the city's numerous craft breweries. The Southside Blonde is an approachable, fruity Belgian blonde ale. Hommel offers a hoppy, earthy palate.
Also pouring are Heart of Gold Wheat Wine, Fresh Hop Red Saison and Strawberry Rhubarb Tart, a Belgian witbier that resulted from Wymore stumbling upon 300 pounds of strawberries and 100 pounds of rhubarb. Wymore says inspiration for his beers will come from similar opportunities. He's currently planning an autumn ale called Peace Offering, which will feature maple and clove, as well as a bounty of squash grown at
YellowTree Farms
.
Perennial tries to keep things as local as possible -- brewing with malts grown in Wisconsin, for example. "Anywhere we can find ingredients that are abundant and local is going to be the driver for making beer," Wymore says. "It's very important to us to source things as local as we can, to recycle and be kind to the environment."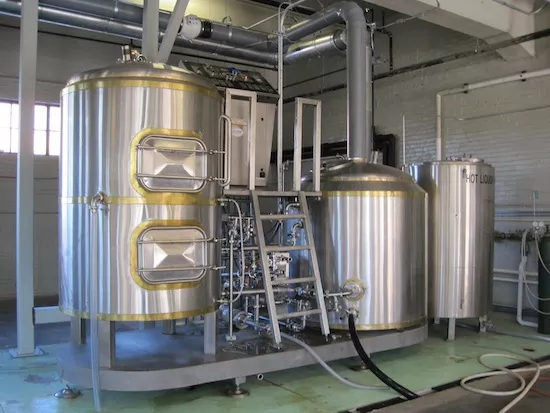 Sarah Baraba
Part of the brewing operation at Perennial
Perennial's space is in line with their values. The brewery is housed in a rehabbed Coca-Cola syrup plant. The 3,500-square-foot tasting room is a mix of industrial and vintage; exposed ductwork is complemented by recycled World War II-era lighting and sturdy wood tables.
Besides beer, Perennial offers some non-alcoholic alternatives. They will have rotating savory sodas made in house by Emily Wymore. (Currently, it's a peach-tulsi soda.) And for nibbling, Perennial serves charcuterie from
Salume Beddu
and cheeses from such local producers as
Marcoot Jersey Creamery
in Greenville, Illinois, and
Goatsbeard Farm
and
Baetje Farms
in Missouri.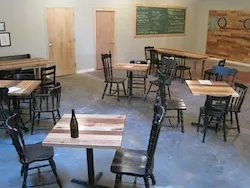 Sarah Baraba
Perennial's tasting room
You can pop in for a taste or two Wednesday and Thursday, 4-10 p.m., Friday 4-11 p.m. and Saturday noon-11 p.m.
And if you're out and about, look for Perennial on tap at
International Tap House
,
The Royale
,
33 Wine Shop & Tasting Bar
,
Handlebar
,
The Good Pie
,
Halfway Haus
,
Five Bistro
and
Brasserie by Niche
.
Wymore expects bottles to hit local stores soon.
Saturday, October 15, Perennial plans to host a
Grand Opening party
from 2 p.m till midnight featuring several of its beers on tap and a menu by
Entre
. For more on the grand opening visit
Perennial's blog
.