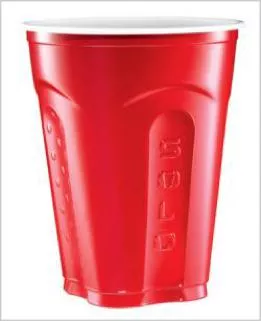 Solo Co.
The ode-worthy red Solo cup.
Drinking beer from Solo brand drinking cups -- the red ones -- is the American way. Sort of like putting a boot in an enemy's ass. So of course the voice of our generation, Toby Keith, has immortalized the cheap party favorite in song.
Is it a song? Is it a jingle? Keith describes his song as such: "...very, very new, very, very stupid, and very, very cool, all in the same package."
The New York Times prefers to describe Keith as having "a healthy capacity for irony."
Keith didn't write the song; he just interprets Brett and Jim Beavers with Brad and Brett Warren's work.
And what great work it is, with such lines as:
You, sir, do not have a pair of testicles if you prefer drinking from glass.
Unlike my home, they are not foreclosable. Freddie Mac can kiss my ass. Woo!
Red Solo cup. I fill you up. Let's have a party. Let's have a party.
I really love how you're easy to stack. But I really hate how you're easy to crack. 'Cause when the beer runs down the front of my back, well that, my friends, is quite yucky
Red Solo cup, you're not just a cup. You're my friend. Thank you for being my friend.
Watch as Keith and his famous friends show their favorite ways to imbibe from red Solo cups. Then spend the rest of your life trying to erase the song from your brain. Helpful tip: There are things served in red Solo cups that can help.