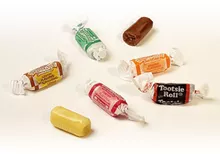 It wasn't all that long ago that Gut Check was donning our finest Disney princess Star Wars character drag outfit and joining the swarms of greedy American children on the hallowed Halloween quest for candy. So we remember well the post-trick-or-treat ritual of sorting the bounty into two piles, i.e., Good Stuff and Crap.
Then we'd head back out and t.p. all the houses where we'd been handed lame candy. We considered the act to be a hint to the clueless to maybe bust out the Snickers next year instead of those execrable homemade popcorn balls. A community service, if you will.
Now we're on the other side of the door, trick-or-treatily speaking, and we're also working from a position of strength when it comes to stamping out Halloween-candy imbecility.
Want to avoid having your happy home t.p.'ed this year? Check back each weekday between now and the Big Day as we count down the 21 Best Halloween Treats and the 21 Worst Halloween Treats...
Worst Halloween Candy Countdown, No. 14: Tootsie Rolls Tootsie Roll products, stop trying so hard. You are not welcome in any form, whether it be a bite-sized roll, slightly longer but equally disappointing roll, turd-like log, fruit-flavored roll or center of a lollipop. Nobody cares how many licks it takes to get to the center, because the Tootsie Roll is the most anticlimactic part of a Tootsie Pop. They're not even really chocolate!
Click through to reveal No. 14 on the Best Halloween Candy list...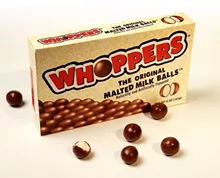 Best Halloween Candy Countdown, No. 14: Whoppers There's a "food core/beer metal" band called Whoppers Taste Good. That kind of dedication doesn't come out of nowhere. Whoppers are a classic that never get old. You can find them pretty much anywhere at any point in the year, and perhaps think of them with a respectful admiration as you pass them in the store. Or when you nom through the whole box before the movie even starts at the theater. Chocolate wrapped around crunchy and delicious malted milk balls? Yes! Whoppers taste good.
Check out the rest of our Best and Worst Halloween Candy Countdown.