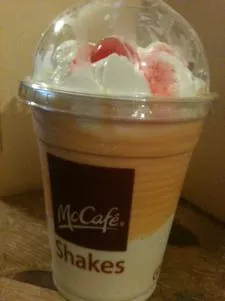 Robin Wheeler
McDonald's captures the flavor of autumn in a shake.
McDonald's isn't 100 percent evil. Take McTeacher's Night: For one evening, hardworking teachers who've already spent a full workday trying to educate our screaming minions get the opportunity to work at a local McDonald's, serving food to those same minions and their families. Their reward? Money to spend on classroom supplies so they don't have to dip into their whopping investment portfolio to buy the gold-star stickers that come home on Junior's successful attempts at spelling ten words correctly.
Seems fair.
Gut Check attended a local McTeacher's Night last week to show our support for Gut Check Jr.'s school. While dodging hordes of kids loaded on soft-serve and cookies, we noticed that McDonald's is no longer limiting its vaguely seasonal shakes to the shamrock. Enter the Sweet Autumn Shake.
What does autumn taste like? We would have asked the kindergarten teacher who took our order, but she was weeping. So we ordered one.
We were expecting some vivid autumnal hue, but it's kinda peachy looking. And it smells like vanilla. At first sip, it's clearly on the spectrum of faux pumpkin-flavored beverages available at this time of years, only way down at the mild end. Picture a vanilla shake with a hint of cinnamon and nutmeg.
But then the aftertaste kicks in. Acrid, metallic and with the potential to linger until December. Disconcertingly reminiscent of the smells that fester in a pile of leaves left unbagged through the winter. It doesn't wash away, either.
"Tastes like pumpkin," pronounced Mr. Gut Check.
After three sips we discreetly threw ours away.
We refrained from doing this, for the sake of the children. But we wanted to.