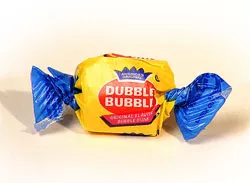 It wasn't all that long ago that Gut Check was donning our finest Disney princess Star Wars character drag outfit and joining the swarms of greedy American children on the hallowed Halloween quest for candy. So we remember well the post-trick-or-treat ritual of sorting the bounty into two piles, i.e., Good Stuff and Crap.
Then we'd head back out and t.p. all the houses where we'd been handed lame candy. We considered the act to be a hint to the clueless to maybe bust out the Snickers next year instead of those execrable homemade popcorn balls. A community service, if you will.
Now we're on the other side of the door, trick-or-treatily speaking, and we're also working from a position of strength when it comes to stamping out Halloween-candy imbecility.
Want to avoid having your happy home t.p.'ed this year? Check back each weekday between now and the Big Day as we count down the 21 Best Halloween Treats and the 21 Worst Halloween Treats...
Worst Halloween Candy Countdown, No. 18: Gum Gum is not for Halloween. Gum is for impulse buyers with stinky breath in the check-out line. And we are not that. Whether it's the almost always stale and rock hard Dubble Bubble nuggets or the Halloween themed, individually wrapped gumballs, the flavor never lasts and then you wind up absentmindedly chewing on a tasteless wad for hours... Hours that could have been spent eating candy that is actually worth the effort.
Click through to reveal No. 18 on the Best Halloween Candy list...
Best Halloween Candy Countdown, No. 18: Mike & Ike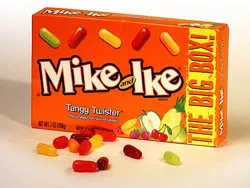 Mike & Ike are the beloved homeboys of trick-or-treaters everywhere. Unlike Hot Tamales, their overly dramatic cousin, Mike & Ikes are delightfully fruity, chewy and pleasant. There's really no bad flavor, but just in case, there are about a million varieties to choose from, like lemonade or Tropical Typhoon. And because everyone is worried about their health around Halloween (like those tools who pass out toothbrushes and pennies instead of candy), Mike and Ikes are only seven calories each, kosher and gluten free. Who knew?
Check out the rest of our Best and Worst Halloween Candy Countdown.