The Veggielante has had it up to here with people bitching that St. Louis restaurants are vegetarian unfriendly. Sure, we'd like to see more restaurants offering more meatless dishes, but there are excellent choices out there if you take the trouble to look for them. We're not here to proselytize about greening up your diet. Our only motive is to spread the word about places where you can order good grub that ain't got no meat. To enhance your reading experience, we've settled on a handful of criteria we'll use to suss out a restaurant's vegetarian friendliness.
Destination: Atomic Cowboy (4140 Manchester Road; 314-775-0775)
Neighborhood: The Grove
Overview: It's no easy feat distinguishing your restaurant from all the others in the eclectic Grove neighborhood, but Atomic Cowboy has managed to stay funky for years. We attribute much of the staying power to its vibrant dance and music scene, but a lot of folks swear by Atomic Cowboy's "freshMex" menu, which boasts a great many vegetarian options, including a housemade veggie burger and veggie and cheese enchiladas.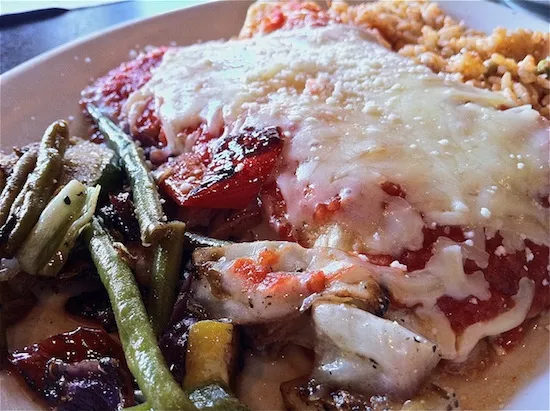 Bryan Peters
Atomic Cowboy's Veggie and Cheese Enchilada
The Grub: The concept behind the freshMex menu is grounded in the idea that, yep, you'll get fresher food compared to traditional Mexican restaurants. With certain dishes (e.g., the escabeche) at Atomic Cowboy this concept rings true; in others, like the rice bowl and the veggie-and-cheese enchilada, the degree of freshness is irrelevant because of the overcooked vegetables. The lack of chile heat (even in a dish labeled "spicy!") was a bit of a bummer.
Bryan Peters
Beautifully charred veggie burger at Atomic Cowboy.
The Atomic Veggie Burger is the standout item on this relatively veg-friendly menu. With a patty made of squash, zucchini, cabbage, bell peppers and breadcrumbs, Atomic's version of the ubiquitous veggie burger tastes more wholesome, feels more nutritious. There's a lovely char on the patty, too, which contrasts nicely with the creamy chipotle mayo.

Seasonality/sourcing: Though Atomic's menu is mostly fixed, it occasionally offers a vegetarian special. As for their veggies, much of it comes from Produce Row, which allows them to source local products without breaking the bank.

Resistance to clichés (vegetable medleys, pre-made veggie burgers, etc.): There are all too many recognizable menu items (hello, veggie burrito), and with the exception of the escabeche, most of the appetizers are pedestrian as well. Making matters worse is the fact that even the interesting apps (like fried plantains) are off limits because of the mixed fryer.

Improvisations & accommodations (vegan, gluten-free, etc.): There are a number of veg items, but the fryer is not vegetarian friendly, which means strict vegetarians and vegans can't eat the tortilla chips. No tortilla chips at a Tex-Mex joint? Heresy! And virtually every appetizer is deep fried.
Extra credit: The good vibes, from the clientele to the décor.

Overall score:
Standout item: Atomic Veggie Burger