Selecting Riverfront Times' Best of St. Louis 2011 was no picnic. Choosing the winner meant several worthy candidates would go unmentioned -- until now. In this Gut Check series, we are chewing our way through notable runners up in a number of categories. To see hundreds more winners and finalists and download the Riverfront Times Best of St. Louis mobile app, visit our Best of St. Louis homepage.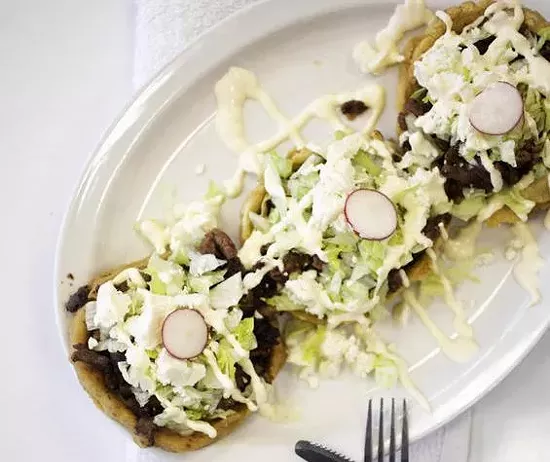 Jennifer Silverberg
One of the many fine dishes at this year's Best Taqueria
Today is National Taco Day, so it seems appropriate to kick off our new Best of St. Louis "Five Best" feature with one of my personal favorite categories, Best Taqueria.

For many in St. Louis, taqueria is synonymous with Cherokee Street. And while there are some damn fine tacos and tortas to be had there, over the past year I found myself returning more and more to the taquerias of along the I-170 corridor.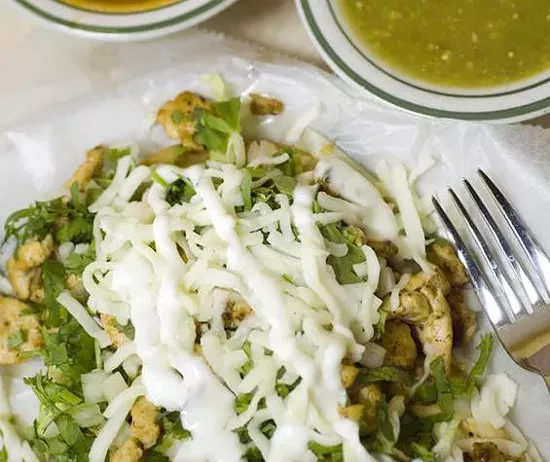 Jennifer Silverberg
Sopes at Taqueria la Monarca
5. Taqueria la Monarca

A butterfly is an apt metaphor for this University City joint. The space -- one side a restaurant, the other a grocery -- is humble, but you emerged transformed. Or, your hunger is transformed into, um, the opposite of hunger. (We're better at eating tacos than extending a metaphor.) The tacos are excellent, heaped with so much meat that you might need a third corn tortilla to hold it all together, but don't overlook the sopes, fried masa disks topped with refried beans, meat, cheese and crema.


Ian Froeb
Tamales at Taqueria la Pasadita
4.Taqueria la Pasadita

Maybe the best in-joke in the St. Louis restaurant scene: This top-notch taqueria is located in a former Taco Bell in Overland. Ever since I first dined here three years ago, I've thought about the tacos filled with chicharrón -- crunchy-crisp exterior, tender interior -- yet when I return I always order the pork tamales, the best in town, a beautiful balance of pork, the sweetness of masa and the heat of chiles


Ian Froeb
The torta ahogada at Taqueria Durango
3. Taqueria Durango

Another Overland gem, Taqueria Durango is one of the very few places in St. Louis where you can score a torta ahogada. Literally a "drowned" torta, this sandwich of carnitas and onions is covered with a smoky chile sauce. Yes, you need a knife and fork to eat it. Want something a little easier to handle? The tacos are terrific, especially the tacos al pastor -- though some of the adventurous might sample buche (esophagus).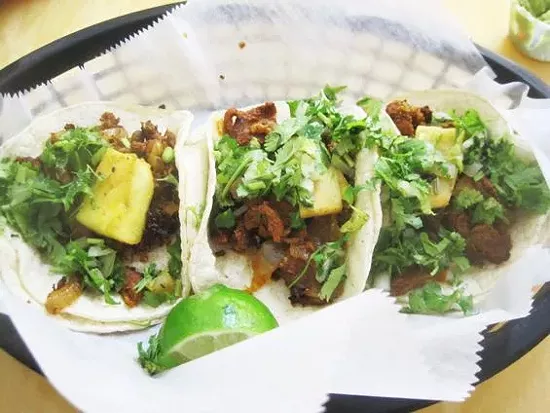 Ian Froeb
The tacos al pastor at La Vallesana
2. La Vallesana

At last we come to Cherokee Street. For much of the past year, La Vallesana operated out of its nearby ice cream parlor while the owners rebuilt the taqueria from the ground up. The new La Vallesana might have lost the original's ramshackle charm, but the food remains terrific. Few St. Louis dishes are as close to my heart as the tacos al pastor here: seasoned pork, pineapple, cilantro and onion, these are the taqueria gateway drug.


Jennifer Silverberg
Tony and Brenda Garcia, husband-and-wife owners of La Tejana Taqueria
1. La Tejana Taqueria

This year's best taqueria is also a liquor store and a place to pick up a new pair of cowboy boots. What more could you want? How about authentic carnitas (usually available on the weekends), incredible tacos de cabeza and a taco with both carne asada and chorizo? La Tejana is 2011's Best Taqueria.