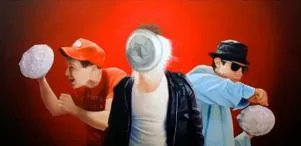 Jeff Ramirez
"Pie Fight for Your Right to Party" - Beastie Boys move beyond the hip-hops arts.
Top Chef: Just Desserts recently brought in a special guest: MC King Ad-Rock (also known as Adam Horovitz) of the Beastie Boys. Although by the time you're a gray-haired 40-something appearing on a cooking show, you're probably a Beastie Man. Regardless, he presented contestants with ingredients featured in Beastie Boys songs.
Just where did all those food references come from?
The New Style B-E-A-S-T-I-E, what up Mike D. Ah yeah, that's me I got franks and pork and beans Always bust the new routines
So What Cha Want Well I'm as cool as a cucumber in a bowl of hot sauce You've got the rhyme and reason but no cause
3 The Hard Way Sneak between the sheets so hide like matzoh Holler back challah bread... next
Posse in Effect You're a fake wearin' sucker whose gold got rusted Cheaper than a hot dog with no mustard Shadrach Vicious circle of reality since the day you were born And we love the hot butter on what? The popcorn.
B-Boys Makin' With the Freak Freak
Yea, The B-Boys Makin' With The Freak Freak Mario's Nagging Nonni's About The Pesto Pizza And Then He's On A Mission And He's Checking For Peacha
Shake Your Rump Mike D Yeah? With your bad self running things What's up with your bad breath? Onion rings
Brass Monkey The whole song's dedicated to the mixture of malt liquor and orange juice. Which is exactly the demographic Top Chef: Just Desserts caters to, right?