Gut Check loves us some wine. We want a bottle with bang and a bang for our buck, so every week we will visit a local wine shop, where an expert will recommend a good-value wine priced under $15. We'll drink some and tell you whether we want to continue -- because the only time Gut Check has our nose in the air is while we're draining our glass.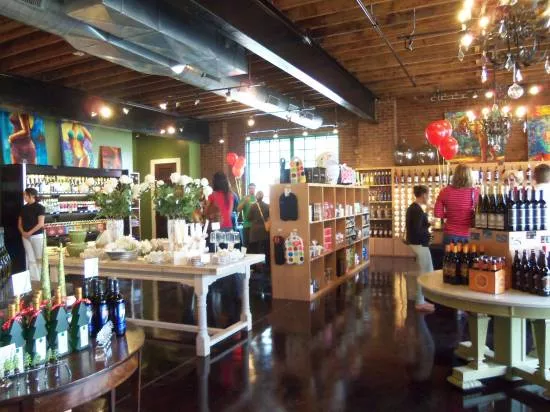 Normally when one hears the words "Fall Fling," images of tulle-lined party dresses and flowered lapels come to mind. Maybe you feel a shiver run down your spine at the memory of a school-chaperoned event, complete with punch bowls and a greasy-haired DJ.
Luckily, Saint Louis Cellars' (2640 South Big Bend Boulevard; 314-880-9000) 2nd Annual Fall Fling was a much different affair. The event, which allows the general public to sample over 90 wines for only $5, is part of a biannual event series that started in the spring of 2010, and marks its fourth anniversary this Fall.
"We were originally trying to think of a one-year anniversary idea, and we thought of having an event where customers could sample everything in the store. We go to all the distributors and get to taste the wine before we buy it, so we thought it would be fun if people got to do it, too," manager and marketing director Diane Blaskiewicz explained.
The Cellar doors opened at noon on Saturday, and by 12:30 the rooms were already filled with wine enthusiasts. After paying admission, we were handed a tally sheet with a list of wines, and a golf pencil to check off the ones we tried. Across the lobby and then downstairs in the actual Cellar, tables were set up with red balloons, and a vast assortment of wines. The average price for a bottle was around $15, and the Cellars were offering a special deal: 10% off a purchase of 6 Bottles, 15% off 12 Bottles and 20% off 24+ bottles.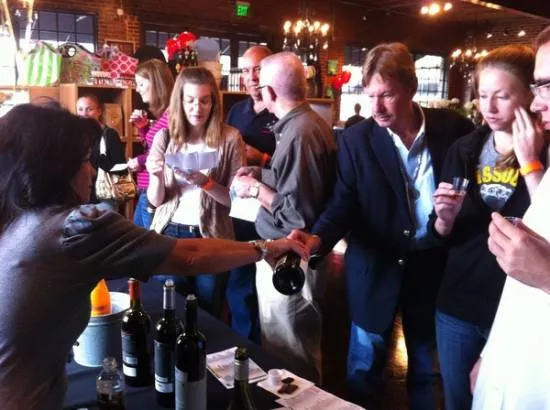 Courtesy of Saint Louis Cellars
The first table caught our eye due to the gimmicky bottle names: "Dad's Day Off Pinot Noir" and "Mommy's Time Out Rosso." We asked ourselves: Was there really a wine that could drown out the screams of small children? Unfortunately, despite the fruit flavors and long finish, neither wine was particularly memorable.
Another bottle on the same table, "Freaky Muscato." We felt a momentary pride for our local winemakers.
The surprise best seller of the day was the Garnacha de Fuego, a Spanish red wine priced at $8.99 that Blaskiewicz describes as "a little fruitier with a touch of spice at the end; people like the pepper. It's a good barbecue wine for a nice fall day."
In the past, the best selling bottle was the Frisk Prickly Riesling, a sweet white wine made from a Muscat Gordo blend. "It's the first time that something else passed this bottle up. The Frisk Prickly Riesling is sweet, but not overpoweringly sweet- there's an effervesence to it." Perhaps the $13.99 sticker price wasn't as appealing to customers as the Fuego's $8.99, but as Blaskiewicz concedes, "The Riesling only sold two bottles less this year than our main seller. And it's usually far and away the best seller."
The newest additions to the Fling were the food vendors. Representatives from Bissinger's handed us wine-soaked, chocolate-covered Muscat raisins; Kakao allowed us to sample their Mexican Dark Chocolate with Chili; and Billy Goat Potato Chips gave us something to munch on as we made our tour of the cellar. The food representatives were as knowledgeable as the shelf staff, recommending certain chocolates as pairings for specific wines.
We made our rounds of the food and wine tables, sampling a little of everything the vendors had to offer. After an hour of multiple chocolate samplings, potato chips, and last but certainly not least, wine, Gut Check felt that the $5 door fee was justified. As Blaskiewicz said, there's "nothing else like this in St. Louis," and we considered the event a learning experience.
"By trying wine, you can judge it for yourself. We're not hiding behind the label. We're putting the wine on display and showing people how great wines can be for under $20," Blaskiewicz said.
Gut Check's Verdict: If you missed out on this year's Fling, look out for the Spring Fling in April. The event takes place twice a year, and offers you the opportunity to talk to wine distributors, snack on chips and chocolate and sample wines from around the world. And with bottle prices ranging from $10-$20, you might think about starting your own collection.