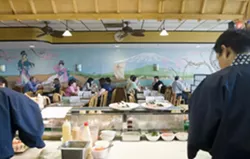 Jennifer Silverberg
Inside Momoyama
Momoyama
(1637 Clarkson Road, Chesterfield; 636-536-7778)
reopened yesterday, September 28, after
a brief, confusing hiatus
.
The sushi restaurant first announced on Facebook that it was closing for good but might reopen in a new location next year. When Gut Check called to confirm the news, however, an employee contradicted this, telling me that it was closed only for renovations.
Here's what I've learned: Momoyama is now under the ownership of
Jin Bae
, who is also the sushi chef.
Yoshio Aoki
-- a.k.a. Yoshi, a.k.a. Mr. Sushi -- who'd returned earlier this year to the restaurant that he'd founded (as
Yoshi's
), is no longer involved.