Ahmed Eltawmi, murdered in June 2010
For the seventeen years leading up to his murder,
Ahmed Eltawmi
ran the Gyro House, a quiet Mediterranean eatery nestled on the side street between Blueberry Hill and Vintage Vinyl in the Delmar Loop.
Everybody loved him. A lifelong bachelor and immigrant from Libya, Eltawmi managed a soccer team, lent an ear to those needing advice, and was by all accounts a goodhearted fellow.
On June 4, 2010, Eltawmi was shot three times and killed near his apartment in Richwood Terrace. The motive seemed to be robbery. Police released
an oddly comical sketch of the perp
, but to this day, nobody's been charged for the 50-year-old's death.
Today in the space that used to house Eltawmi's restaurant sits a new eatery:
Gyros in the Loop
. Its logo is the image of a man's face -- one that looks remarkably like Ahmed Eltawmi (see logo below). That might lead you to conclude that Eltawmi's family or former employees have carried on without him in that spot.
You would be wrong. They've moved down the street. And as a result, there are now two gyro joints in the Loop without much love for each other.
Once Eltawmi died, a decision had to be made by
Dr. Ali Raffa
, the deceased's uncle and elder family member in town: What to do with the Gyro House?
Raffa, a soft-spoken 67-year-old retiree, lives in Ladue. He says he helped raise his nephew many years ago, while both were living in Benghazi. After Raffa emigrated to St. Louis and became a vascular surgeon, Eltawmi followed him here.
Raffa says that just days after his nephew's murder, the four or five employees left behind wanted to reopen the Gyro House. So Raffa, who soon became caretaker of Eltawmi's estate,
allowed
them to do so.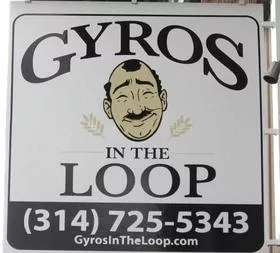 Who does this look like to you?
However, the landlord and owner of the building didn't seem keen on this idea.
Ray Ghasedi,
65, had been a good friend and admirer of Eltawmi. He even told the
Post-Dispatch
that Eltawmi was a "saint" and "the nicest man you would ever meet in your life."
But Ghasedi didn't appear to have the same regard for Eltawmi's associates.
(Ghasedi's daughter, who also served as his attorney in this matter, tells Gut Check, "This matter is resolved. We have no comment.")
Ghasedi raised the rent from about $2,200 per month to $3,500 per month, Raffa recalls. Raffa refused to pay it. He and the original Gyro House employees decided it was time to pack up and move down the street, into a new space across from The Pageant.
They made placed small placards for the tables announcing the move. Ghasedi would come in during off hours and remove them, Raffa alleges.
Eltawmi's old entourage finally
made the move
at the end of August 2010 -- but not before a little drama on move-out day.
On August 29, they were moving their stuff out when Ghasedi's son and son-in-law showed up. A scuffle apparently broke out. Police were called. When officers arrived, a friend of Raffa's helping out with the move reported that he'd been roughed up and threatened by Ghasedi's son. (Raffa's friend decided not to press charges.)
The very next morning, Ray Ghasedi himself phoned police and beckoned them back to the restaurant. He complained, first, that Raffa and crew had wrongfully removed the industrial stove hood and fire equipment.
Then Ghasedi showed the officer a pea-sized hole in the front window. He suggested that it was made with a pellet gun, according to the police report. He also noted he was having problems with Raffa, and feared "Raffa may attempt to further damage the building."
(When asked by Gut Check if he'd shot up the front window, Raffa gives the reporter an are-you-putting-me-on expression. "Somebody my age, running around with a pellet gun?" he chuckles.)
Ghasedi's son-in-law soon opened Gyros on the Loop -- right at the same spot as the late Eltawmi's restaurant. Around the same time, Eltawmi's old employees opened the Gyro House on Delmar Boulevard, right near
Pi
.
Ghasedi then filed a claim totaling nearly $100,000 against Ahmed Eltawmi's estate. After some acrimonious legal wrangling, Raffa was ordered by the probate court to pay Ghasedi $10,000 to settle all outstanding issues relating to the move.
The new Gyro House, across from The Pageant.
The situation still rankles Raffa. The logo used by his rivals, which clearly resembles Eltawmi, seems to especially irk him.
Hytham Masri
was the only employee of Eltawmi's who stayed in the old location. He and Ghasedi's son-in-law launched Gyros in the Loop together. Masri says the sign is not Ahmed; rather, it's simply clip-art that happens to look like him.
Still, Raffa feels that the owners of Gyros in the Loop are deceptively claiming ties to his dead nephew. Eltawmi built up goodwill over years of hard work, Raffa believes, but now, they are the ones profiting from it.
Meanwhile, the new Gyro House -- owned by Eltawmi's family -- has a sign above the front door in neon letters that reads, "GYRO HOUSE."
Under that, a third word clarifies: "ORIGINAL."