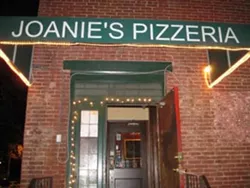 Joanie's Pizzeria
(2101 Menard Street; 314-865-1994)
will open a location at 5441 Telegraph Road in south St. Louis County. Gut Check left a message with the original restaurant for more information, but according to the recorded greeting on the new location's voice mail, an October opening is planned, and the menu will be similar or identical.
The new location was previously home to a
Louie's Pizza Co.
The Louie's Pizza Co. at 5406 Hampton Avenue remains open.
Update
: (Tuesday, September 27, 3:30 p.m.) Owner
Joanie Thomas
tells Gut Check that the new location will begin its life as "a smaller version" of the original: "It's just carryout and delivery.
"And then by spring, I'll be adding 40 seats and a counter [for ordering]."
Thomas says the menu will feature "almost all of your Joanie's favorites: a few pastas, a few sandwiches, pizzas, salads and appetizers."
A mid-October opening is planned.